Clubmakers
---
Redfern's Rubber Works Ltd
Hyde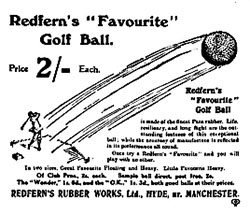 The business was founded in 1900 by Wilfred Redfern to supply cycle tyres and pedal rubbers. Later joined by his brother, Thomas, they began supplying rubber heels for shoes and bought Spring Bank Mill in Hyde in 1906 to produce them. They were registered as the Non-Slipping Silent Heel Company with capital of £5000 but increased the nominal capital to £80,000 in 1908 and changed the company name to Redfern's Rubber Works Ltd with other members of the family joining the firm.

Around 1911 they began producing golf balls, The OK, The Wonder and, the following year, The Favourite.

From 1920 until the Second World War they produced tiles and other forms of rubber flooring.

Search the catalogue for clubs by this maker