Clubmakers
---
Harry Bruton
Markeaton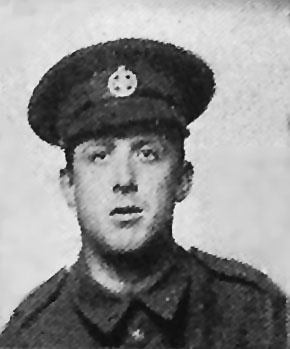 Harold Bruton was born in Malvern, Worcs, in 1889, the son of Edwin Bruton a hairdresser and his wife Mary Jane. He seems to have learned his trade at the local Worcestershire club as he appears on the 1911 census as a golfmaker, living at home, South View Court, Malvern, with his parents, brother and sister.

By 1913 he had moved to Eltham in Kent as an assistant to W R Reith, competing for example in the Kent Professional Golfers' Union medal play as a qualifier for the President's Cup at his home course in September 1913 or the southern qualifier at Sidcup for the Perrier Water Assistants' tournament the following year.

He was one of he original 24 assistant professionals who assembled in Trafalgar Square in London on 12 September 1914 and enlisted in the 13th Battalion, Rifle Brigade, forming a company known as the Niblick Brigade.

It is not clear to me what he did immediately after the war. He may have returned to Malvern and been the Harold Bruton who married Florence Toale there in 1923. In 1924 he was appointed professional to the Markeaton club in Derbyshire though he only merited a nameless mention ascribing good results to 'the new professional' at the November AGM.

In 1930 he took part in an exhibition match at the municipal course in Derby playing with Archie Compston against Abe Mitchell and the home course pro.

He was elected Captain of the Derbyshire Association of professional Golfers in 1931. It would be fair to say tournament play was not his forte. Playing in the Orr Cup, the Derbyshire Open championship over Matlock in 1932 he returned a score over two rounds of 31 over bogey. 'Astonishing!', was the verdict of the Derbyshire Times. In fairness, he fared better in other years and, when the Markeaton course closed in 1945 he still held the course record.

Bruton accompanied James Braid in walking over the ground for the new course at Kedleston in 1938 but there is no mention of a professional when the Kedleston Park course opened in 1946.

Search the catalogue for clubs by this maker