Clubmakers
---
James Bradbeer
Glastonbury/London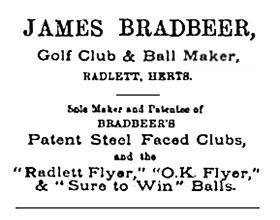 Born in Berrow, Somerset, in 1880, Cuthbert James Bradbeer was the second of fourteen children of George Bradbeer and his wife Helena née Hunt. Nine of the brothers went on to become golf professionals.

All of the boys caddied on the local Burnham and Berrow course but James's first professional experience away came at the Ivythorn club in Glastonbury where he became the first professional in 1897 for the club's official opening on New Year's Day of the following year.

By 1903 he was professional at Finchley in London but I suspect he had already been there for a few years, the local press by then calling him the 'well known professional'.

He went to the Porter's Park club in 1905 where he patented steel faced clubs which he made himself with steel screws in the face of the wooden clubs and, from his workshop in Radlett, offered the Radlett Flyer, O K Flyer and Sure to Win balls. He sold the Jay-Bee range of irons (those I have seen were forged by Nicoll with, logically, a cleekmark of a jay and a bee).

His time here was broken by the First World War and he served in one of the so-called 'Pals Battalions' (probably the 23rd or 24th (1st and 2nd Sportsman's) Battalions, Royal Fusiliers) and not the Niblick Brigade as erroneously appears in some articles.

During his 32 years at Porter's Park he won the Sphere and Tatler competition with Sandy Herd in 1911 and the Hertfordshire Open in 1926. There were 15 appearances in the Open Championship, his best performance being tied 7th in 1913.

He was still competitive in tournament play in the mid-1930s, in the Roehampton Tournament of 1933, for example, or in winning a local PGA event, the Porter's Park bowl, in 1937 but articles, including Wikipedia, suggesting he was a nominee for the Ryder Cup team in 1935 and 1937 are wide of the mark. He was, however, on the selection committee both years.

Described as 'short and plump (with) a philosophical outlook on life' he traveled back to to his hometown Burham-on-Sea in 1937 for a holiday. Summoning a doctor he was admitted for an operation and died at the War Memorial Hospital, Burnham-on-Sea on 18 August 1933.

Search the catalogue for clubs by this maker