Clubmakers
---
J T Baker
Bucharest/Seaford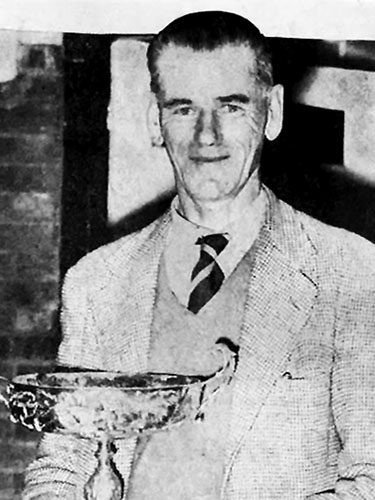 Joseph Thomas Baker was born in Sussex on 11 March 1904.

The first step in his golfing career was as assistant at Seaford to Joseph Cheal in 1920. He moved on in 1928 to become first assistant to Charles Parsons at East Brighton. From here he won the first two Sussex Assistants' Championships with Alf Padgham, the future Open Champion, in second place on both occasions.

In 1933 he went to Bucharest to become only the second golf professional in Romania at what is now the Diplomatic Golf Club and married Elizabeth R Coleman in Newhaven the following year. His post in Bucharest also involved being professional in the summer months at the Royal Romanian GC built in Sinaia close to the royal summer residence of Pele?. During his time in Romania he gave lessons to King Carol II and to the young King Mihai. He also played in the Czechoslovak Open of 1937 at Marienbad. Joe came back to Britain in 1938 and played in a host of tournaments as 'unattached'. At the start of the war he joined the Royal Observer Corps and served as an instructor at Newhaven although he played a couple of events in 1940 with the affiliation of the Waterhall club in Brighton.

Post-war he took another assistant's position at Worthing while he looked for a suitable professional's post, feeling he had been rather forgotten about during his time in Romania. This came along in 1947 when he became professional at Mannings Heath. He played a lot of tournament golf and was usually there or thereabouts but local success came after he returned to his first club, Seaford, as professional in 1953.

He had been trying to win the Sussex Professional Championship since 1928 and had been runner-up on a number of occasions. In 1957, at the age of 53, he won, pipping a youthful Brian Huggett by one stroke. Twice he had been runner-up in the Sussex Open Championship and he won that too the following year, again from Huggett in second spot.

In 1964, still at Seaford, he was PGA Captain for that and the following year.

He died in Brighton in 1970.

Search the catalogue for clubs by this maker