Clubmakers
Killed in the First World War
(Source: © 2014-18, Douglas MacKenzie)
Golf professionals and clubmakers were, like every other section of society, affected by the First World War. Many clubmaking businesses went bust (Spence and Gourlay and Anderson and Blyth are two in St Andrews who met this fate) for the want of raw materials or trained staff, with their clubmakers in the trenches there were many hearings where business owners sought call-up exemption certificates for their most skilled workers. Alex Marling and George Smith just left their business Marling and Smith in Aberdeen and joined the Gordon Highlanders, Marling losing one eye, Smith his hearing in the fighting. They resumed their careers after the war as did others such as Ernest Jones despite the loss of a leg.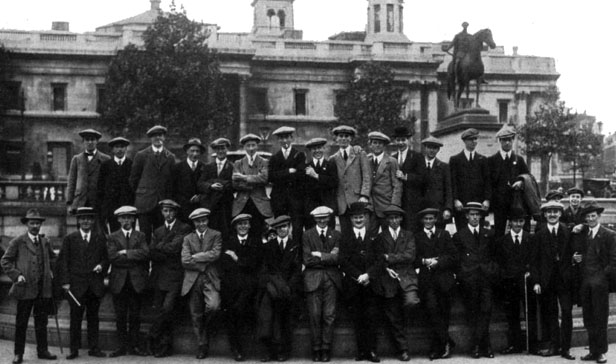 The Niblick Brigade, Professional Golfers in Trafalgar Square before enlisting, 1914
Others though did not return from the war. Indeed, the first British casualty of the war, John Parr, was a caddy at Friern Barnett who lied about his age (he was 16) when he joined the 4th Battalion, The Middlesex Regiment. The list below is not comprehensive though I will add to it over time. Nor is it intended as a roll of honour of those who gave their lives for their country: it is a list of laddies killed in their prime for reasons which even after a century's reflection are unclear.
ASSISTANTS
Sapper Frank Booth (Assistant, Lees Hall GC, 1918)
Frank Miller (Assistant, Gatwick, 13.10.1916, age 20)
Private J Williams (Assistant, Porthcawl, 1918, age 24)
Private Cyril Jackson (Assistant, Walmley, Royal Warwickshire Regiment, 1916, age 21)
Private Harry Shutt (Assistant to Charles Gibson, Royal North Devon), 8.3.1916, Devonshire Regiment, Basra Memorial
Sergeant Henry Balfour (Assistant, Lossiemouth, Seaforths) 1918
J Simmons (asst to James Sherlock, Stoke Poges)
Private Robert Barr (Assistant, Old Ranfurly), HLI, 18.11.1916, age 20
L/Cpl Charles Lord (Assistant, Worsley), Royal Lancaster Regiment, 16.8.1916
W G Eastland (Assistant, Thanet), 13th Bn, Rifle Brigade (Niblick Brigade), 14.11.1916
Robert Smith (Clubmaker to brother, George E Smith, Deeside), 7th Bn, Gordon Highlanders, died of wounds, 4.6.1917
James Tunley (Private, Border Regiment, Assistant Llandrindod Wells, killed 1.4.1917), Buried Savy British Cemetery, Aisne
Signaller Clarence Maud, Royal Field Artillery, Asst to Thomas Tate at Horsforth 1912-1915, died of wounds 27.9.15
Lance-Sergeant Robert Clark, Australian Infantry, from Carnoustie, assistant and clubmaker to his brother Carnegie Clark at Royal Sydney, died from gas poisoning, West Flanders, 16.10.1917 aged 24
Private Peter Ward Gordon, b Broughty Ferry 13.8.1897, (Clubmaker to brother-in-law, Melville Brown, Malone GC, Belfast, Argylls, d 18.8.1916, Somme)
Private J H A Macey, (Assistant Littlehampton), 13th Bn, Rifle Brigade, d 10.2.1919
Able Seaman George William Fernie, clubmaker with his uncle Willie at Troon. Although in the Navy, he was sent as infantry with 'Howe's Batallion' and died on 16.11.1916 from injuries sustained in action at the Somme.