Genii niblick
Maker: Charles Rodwell , London
Date: 1912

Three famous names in clubmaking are associated with this small-headed niblick, all stamped on the reverse of the head.

The gooseneck "Genii" design was that of Hugh Logan, whose signature is stamped on the club, who assigned the patent to Bennetfink (not on the club!) who, in turn, granted sole manufacturing rights to William Gibson of Kinghorn. The Gibson star cleekmark is prominent in the lower left of the head.beside "Special". Gibson was allowed to sell the club to other retailers, within certain price constraints, and so this one is marked for "Charles H Rodwell London". It is further stamped "Warranted Hand Forged", "The Genii Model" and "Niblick" and has the design registration number "302040".

The head is made of soft metal as the essence of the Genii design was that the lie and the loft of the head could be adjusted by a clubmaker to suit a player's needs. The consequence of this for a niblick, which was used to get out of trouble in difficult lies, is that the soft metal has a lot of "dings" along the bottom edge as can be seen here. The face has an enclosed lined face.

There are three bands of whipping on the hickory shaft but there is no apparent damage to the shaft so it would appear this is to reduce whippiness in the shaft. However, the shaft is so rigid I cannot imagine this would have made any difference but no doubt the club pro sighed, acknowledged the customer is always right and wound it round.

The grip is of polished burgundy leather.
Price $100.00
Reference: NIB248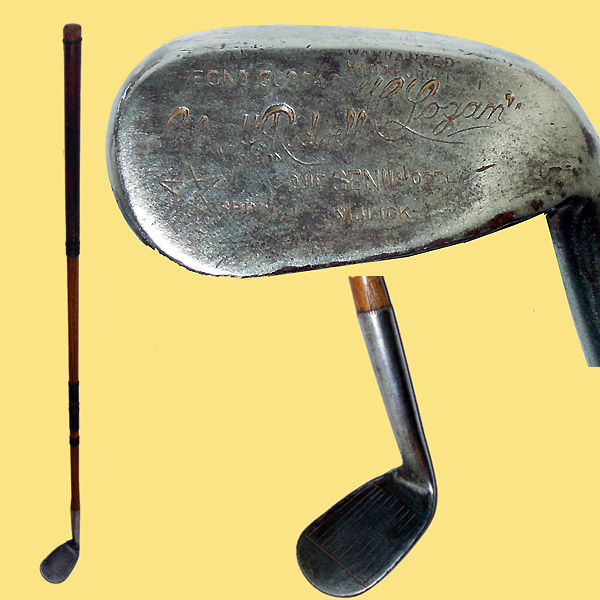 Click on the image to view it full size