Clubmakers
---
Harry Hampton
Detroit/Chicago etc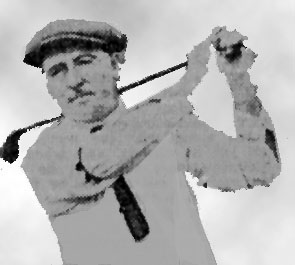 The much-travelled Harry Hampton was born in Montrose in 1889 and an enthusiastic and highly skilful player in the Mercantile club there. He was Golf Champion of Montrose in 1908 but, in 1910, was off to America. Supposedly his putting suffered because of poor vision in one eye but he had a fair old career nonetheless.

I believe his first appointment was at Fall River, MA, but he clearly spent some time in the summers as a professional in Canada as he won the 1911 Nova Scotia championship on his 'home course' of Truro.

In 1914 he became professional to the Lenox, MA, club but spent at least some of his winters away, having been hired by the Charleston Country Club in South Carolina in the winter of 1916 to advise the grounds committee and provide instruction 'to both men and women'.

He was at Richmond, VA, in 1920, bringing Ed Valentine out from the Merky club in Montrose as his assistant, and finished third in the Shawnee-on-Delaware Open competition. That doesn't sound much but, considering he finished behind Jim Barnes and Ted Ray, it shows the importance of big-money tournaments of the time relative to the "majors". Saying that, he lost in the semi-final of the USPGA that year (it was matchplay then) and was ranked the 6th best professional in the USA (at least according to the Dundee Courier). His stay in Virginia must have been brief because, in the same year, he was appointed professional at the Brooklands Country Club in Detroit with a salary of $1000 per month which, again per the Courier of the day, made him the highest paid professional in America. There must have been quite a lengthy absence from Detroit as he announced he was going to play in the Open Championship in St Andrews that year which he did. He was also paid $1000 plus expenses (though the team were accommodated in some dilapidated railway carriages!) to be one of the twelve "American" golfers (with another three Scots) in the international match at Gleneagles (the forerunner of the Ryder Cup) which was a curtain-raiser to the Glasgow Herald 1000 Guineas tournament in June 1921. Returning to Detroit he won the Michigan Open in 1923.

1925 saw him at the Brookside Club in Canton, Ohio, from where he entered the US Open. The next year he was a professional in Memphis and leading the US Open after the first round. He tied for 7th eventually, a shot ahead of Bobby Jones. Greater success was had in the Southeastern Open which he won in this year.

From 1928 until, at least, 1935 he was professional at the Beverly Country Club in Chicago. In any event he was still in Illinois, living in Libertyville in 1939, as he was seeking a new club for the season in an advertisement in January's Golfdom magazine.

Harry Hampton died in California in 1965 and is buried in Santa Monica.

Search the catalogue for clubs by this maker