Clubmakers
---
Robert W White
Myopia/Cincinnati/Chicago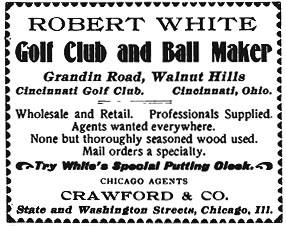 Robert W White does not have a stellar playing record, he finished towards the bottom of the field in the first US Open he entered in 1897 and, in the others, he seems always to have withdrawn after the first round. However, in every other aspect of American golf he was a giant: he designed a host of courses, brought science to greenkeeping, helped drive the formation of a national association for golf professionals and greatly stimulated the development of the clubmaking industry. A clever businessman, he reputedly was one of the richest people in Myrtle Beach when he died.

He was a schoolteacher in St Andrews before emigrating to the United States in 1894. He worked first as a professional/greenkeeper at Myopia in Boston before laying out the Cincinnati Country Club's course and becoming their first professional. He took over from fellow Scot Tom Cunningham at Louisville in 1899 and formed a partnership there with another Scot, Robert Andrews, to produce "McAndrew brand" irons which were used by several top players including Alex Smith, Gilbert Nicholls and David Ogilvie.

Apparently White entered the US Open of 1901 with a Milwaukee affiliation though I am not sure of the significance of this as he was still listed under Cincinnati in the 1900 event although he was at Lousiville. Between 1902 and 1914 he was professional to the Ravisloe club in Chicago. A lunch with some fellow pros in Chicago in 1907 led to the decision to form a professionals' association which ran monthly tournaments in the summer. This stood him in good stead as, after he had become professional at Wykagyl in New Rochelle, NY, in 1916, he was elected as the first President of the PGA of America for the period 1917-1919.

From his Myopia days, he recalled a local carpenter watching him make wooden clubheads and telling him that a local shoe last factory where he did some work could do that in a fraction of the time. During his time at Ravisloe he heard about the shoe last works in Dayton, OH, and had them make heads for him and for fellow professionals through the cooperative he set up, the PG Manufacturing Company. The shoe last company, of course, became the MacGregor Golf Company.

Also during his time in Chicago he attended one of the 'farm schools' at the University of Wisconsin to widen his knowledge of grass. His view was that course maintenance poorly paid so professionals would not spend the time necessary on it so any efficiencies he could find in this area would be useful. Due to this knowledge, in his time at Wykagl, he was able to supervise the maintenance of eleven other Westchester County courses. His expertise in this area also led C C Worthington, a pioneer in mechanising course maintenance having him spend a year to Shawnee-on-Delaware between his time at Ravisloe and Wykagl.

Golf course architecture started for him Myopia with laying out of several courses in Massachusetts but he had most time to spend on it in his New York days. He designed over a hundred American courses including Longue Vue Club in Pittsburgh, Water Gap and Glen Brook Country Clubs also in Pennsylvania, Shorehaven and the Heritage in Oneonta, AL. I believe he also built the first putting green at the White House.

White retired from Wykagl in 1932 but had gone to Myrtle Beach in 1927 to lay out their first course. This led to a long association with the town where he made many property investments. He died in Myrtle Beach in July 1959.

Search the catalogue for clubs by this maker