Clubmakers
---
Lillywhite Frowd
London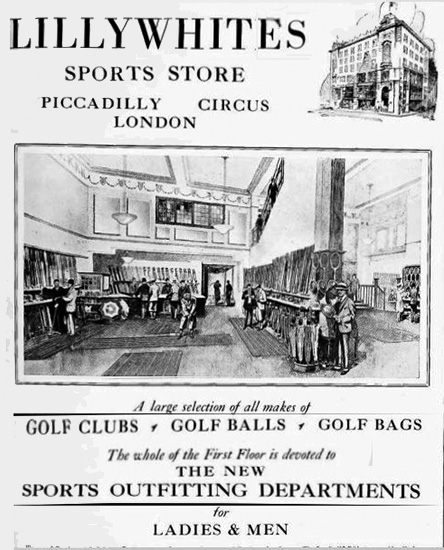 Lillywhite, Frowd & Co still have a large store emblazoned "Lillywhite" in London's Piccadilly Circus (to where they moved in 1925) and were for many years suppliers of golfing, cricket, tennis, badminton, croquet and polo equipment. Very similar to John Wisden & Co (they too published a cricketing annual [from 1872-1900] edited by Charles W Alcock, the Surrey Country Cricket club secretary). The business was started by Frederick William Lillywhite, who played in 237 first class-cricket matches between 1825 and 1853, in Islington in 1844.

His nephew, James Lillywhite, also a cricketer, who twice captained England and later stood as an umpire in six tests, took over the business in 1879 at which time it became John and James Lillywhite & Co. In 1882, John disappeared from the company name and, in 1885, the firm became Lillywhite, Frowd & Co.

They bought in golf clubs for resale from many leading makers, including Anderson, Auchterlonie, Forgan, Craigie, Forrester and Nicoll. They had a special agency for Mills aluminium clubs and sole rights to the Cuthbert Butchart V-groove spliced woods.

Search the catalogue for clubs by this maker