Clubmakers
J P Cochrane & Co
(Source: © 2013, Douglas MacKenzie)
The firm began around 1895 as a golfball producer in Albert Street, Leith, the port of Edinburgh and, although some production of clubs took place, this was not a serious element of the business until about 1910. Even in that year James Pringle Cochrane, the sole partner, described himself as a 'golf ball manufacturer' when subscribing to shares in William Gibson's clubmaking business in Kinghorn.
They became one of Scotland's major exporters of balls and clubs to the Empire and the United States.
Some of their early products targeted the cost conscious: the Paragon, their first gutta ball, then the Patent Rex Bramble followed by the Cochrane Bramble of 1904, 'the only one shilling rubber-cored ball on the market'
In 1907 they developed an outstanding piece of engineering, or a great bit of marketing, or maybe both. They ran an advertisement apologising that after publishing the results of tests on their Professional Red Dot balls by Arnaud Massy they were unable to cope with 'extraordinary demand' but 'hope that by the extra plant they are putting down, and by working night and day, to be in a position to execute all orders very shortly' . The tests were at the 17th at the private course at Archerfield, with Massy driving all the current popular balls, the Professional Red Dot being the longest. The claims about expansion were true. They moved to a new factory in Murano Place, a gentle pitch from Albert Street, with plans to increase the workforce from 300 to 700 and turn out 100,000 golf balls per week.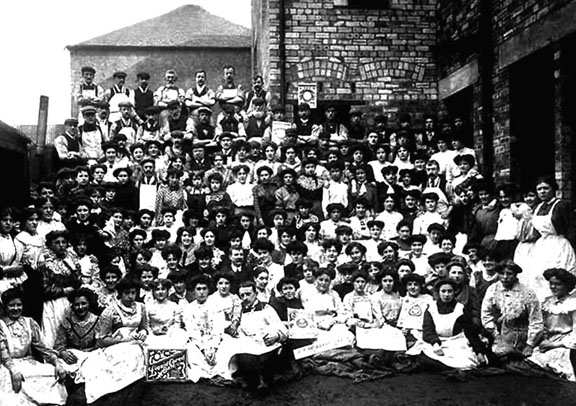 1907 also saw them embark on a sustained period of litigation, a familiar story in the early days of rubber-cored golf balls. The Ace was then also a popular ball of theirs and an action was brought by James Henry Roger (described as a wine merchant in Glasgow) claiming infringement of the F. H. Mingay patent, assigned to him, for an improved core consisting of an elastic bag filled with water. Cochranes argued the Ace core was not liquid, it was jelly because it was mixed with gelatine even if, after a while, it decomposed to a foul-smelling fluid. Lord Salvesen was having none of it, felt it infringed the patent and found in favour of Roger. However, a reclaiming note, (an appeal) was lodged by Cochrane & Co and the following year, relying largely on evidence of the different behaviour of liquid and gelatine filled golf balls in flight provided by Harold Hilton, the decision was overturned. Roger also appealed, to the House of Lords, in 1909. I am unaware of a judgement; perhaps events overtook this.
So, court case settled, shake hands and bacon sandwiches in the clubhouse? No. In March 1911, before the Lord President in the Court of Session, Cochrane sued Martins of Birmingham and James Henry Roger for £10,000 alleging the Zodiac ball infringed a 1906 Cochrane patent for forming the core with an elastic bag filled with an incompressible fluid. The defenders claimed the core was made of soft soap combined with pieces of cork or powdered black lead and relied on prior art by Richards in the USA in 1902 so nothing to do with Cochrane's patent. The court agreed.
There was potential for this to go to appeal in Scotland and, perhaps, the House of Lords in London again but at this point Rogers offered the only reasonable response to protracted litigation and died. In death he turned out to be a jolly good sort. The 'wine dealer' description from the court papers did not reveal he was the proprietor of Rogano's (yes, I know that will only mean something to people who have lived in Glasgow) but intrigues me as to why he was involved in golf ball design and manufacture. I will find out!. He left a collection of pictures to the Kelvingrove Museum, money to the incorporations and infirmaries of Glasgow and any money left over from his sizeable estate was to go to creating a rowing course on the Clyde should the Corporation get round to widening the river between Glasgow Green and Rutherglen Bridge . Anticipating the sloth of the city fathers he provided an alternative of funding gymnasia and rifle ranges for scouts or cadets.
Golf club making clearly seemed to be a reasonable alternative sideline to court appearances for Cochrane and they developed this from 1910 onwards. In 1913 they bought the forge of Thomas Harrower in Carnoustie to provide cleek heads. This facility existed until 1923 when the tools and plant were sold at public auction. In 1921 they became J P Cochrane & Co Ltd with a capital of £55,000 (and the registration reveals they also made car and cycle tyres, that same year announcing a triple layer "puncture proof" inner tube) a huge capitalisation compared to other golf companies establishing in Scotland at the time.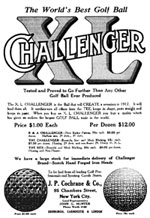 This 1917 advert for their US branch claimed 'the largest golf ball trade in the world'
The description above of narrow arguments about patents obscures the genuine innovation which came out of the company: patents for golf balls, golf ball winding, clubs, shafts, tees, fishing rods and ways of making them (and a pad for the soles of shoes and boots!).
Famed for their giant niblicks in the 1920s (some more than 4" x 3") and the patented Everlasting bulger driver which used a combination wood/metal head, their clubs can be recognised by a knight cleek mark from 1910 onwards and a loose knot (described by authorities variously as a bowline or a reef knot but not quite either) in the 1920s. They are also one of the manufacturers where you may find an inspection mark on their irons: a small, personal mark made by an inspector doing quality assurance within the factory.
Their experience with Arnaud Massy in 1907 was not wasted on them in finding endorsers. They employed David Bone, a good West of Scotland golfer prior to, and during, the First World War, who got all over the country eliciting favourable remarks from golfing correspondents in newspapers regarding Cochrane's new golf balls. At the 1927 Golf Exhibition, to coincide with the Open Championship in St Andrews, they were offering Walter Hagen and Joe Kirkwood ranges of clubs.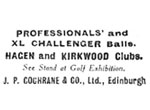 J P Cochrane advertisement, 1927
This is very much a starter article on the company, there is much more I would like to know. They disappeared from the trade directories around 1930: what happened to the company? Was the golf company's James Pringle Cochrane the same one involved in a family firm of metal merchants and galvanisers he left in 1904? Was it the same J P Cochrane who patented 'a system of heating and lighting tramway cars …. by means of hot water and gas' in 1893. Hot air and Edinburgh trams – too much to believe surely?