Len White Ladies' Putter
Maker: L G White , Stanton/Hornsea/Coxmoor
Date: 1928

The unscrupulous would tell you that this club was made with a "St Andrews bow". This is infortunately the same as the owner's initials stamped on the shaft, "B S". The bow is allegedly when the shaft is bent back towards the player, shortening the lever arm of the shaft, especially for putters, perhaps for a shorter player, but the geometry of the club remains the same and is perfectly playable.

In 99% of cases what has actually happened is that the clubmaker has aligned the grain of the shaft so that if the wood does warp it will be back in alignment of the head and thus not affect the usability of the club.

The face of the slightly offset head has a dot pattern between two inscribed lines, The reverse has a crown cleekmark (I have no idea with whom this is associated, whether the professional selling it or the maker who may well have been a wholesaler but it almost certainly has no royal connection.) It is stamped "Warranted Hand Forged in Great Britain" i.e. England or they would have emphasised the Scottish connection, "L" for a Ladies' club, "Rustless Putter" and "L G White Special" for Len White, the long-serving professional at Coxmoor, who sold the club and "1". Numbering of clubs was not yet standard and a putter could be designated 1, 9 or 10 depending on the manufacturer.

The soft black leather grip is probably original and has some fancy whipping at both ends. A very small band of whipping just above the hosel either covers a very small repair or adds weight to the head.
Price $100.00
Reference: PUT487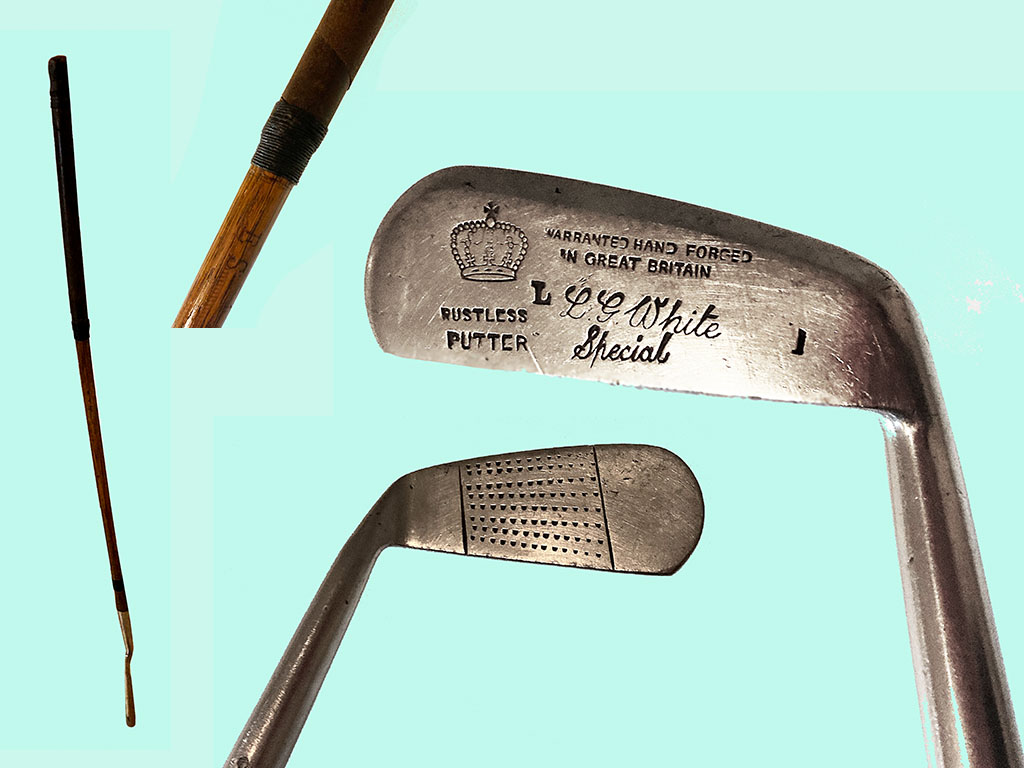 Click on the image to view it full size