Steel-shafted pendulum putter
Maker: Castle Equipment Company , London
Date: 1950

Pendulum putting has a long history and has recently raised its head again in Bryson DeChambeau's putting experiments.

A centre-shafted croquet style club seems like a very obvious way to hit the ball along the ground towards the hole and, at least by 1899, G H Harrison applied for a patent on a duplex club with rectangular brass blade. Although the patent was never granted, the club was produced by those lovers of eccentric putters, F H Ayres. It was banned by the R & A but pendulum putters appeared regularly over the years n slightly different forms to, at least initially avoid the ban. Kroydon patented one at the start of the 1920s. The Gillespie patent was an oak club swung between the legs, gripped with thumbs of either hand, level at the front of the . Harry Bradshaw was apparently a master of it though did not dare us it in tournament play. It was initially approved then prohibited, potentially fortuitous for Mr Gillespie, according to Henry Longhurst, as he had insured against this eventuality.
Some pendulum designs had two separate grips, one from ether hand such as this one from Bill Cox, Ryder Cup golfer in 1935 and 1937, and later a BBC commentator.
The club has a heavy brass head, smooth on the face and marked "Pendulum", "Castle", "Bill Cox" on the rear with the Castle logo, in which is inscribed C E C, for the Castle Equipment Company of London. The steel shaft has two grips, one for each hand and one below the other, and is joined to the brass head in the centre.

The putter was very popular and extremely successful which led to it also joining the list of banned equipment in the early 1960s.
Price $110.00
Reference: PUT461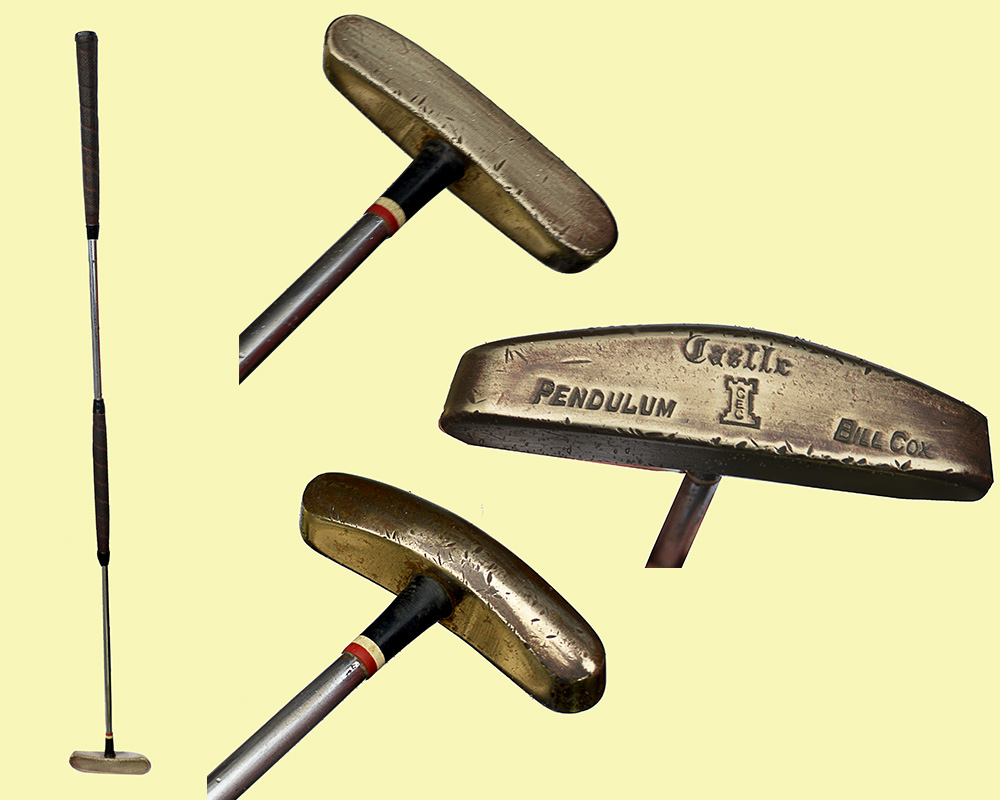 Click on the image to view it full size