Patented Hornite brassie
Maker: Robert Simpson , Carnoustie
Date: 1896

One of the experiments in making clubheads from different materials (beech being notorious for splitting and cracking), this scareneck brassie was produced according to an 1894 patent of Robert Simpson.

The material in question was hornite, a hard vulcanized fibre resembling horn. The patent was not for the material itself but rather the process by which it was made. A rough shape was cut out of the hornite sheet and soaked in boiling water for ten minutes to make it pliable. The head was then placed in a press 'like a letter copying press' (a device invented by James Watt of steam engine fame in 1780 where letters were copied by pressing them against a sheet of wet tissue with a sheet below to receive the released ink) and bent to the desired angle. The head was then left in the press for a further twenty minutes then transferred to another machine with pegs holding the bent head for around a week while it dried out.

Hornite was designed to be stained and varnished like wood and hold a lead backweight and, where necessary, a brass soleplate, yet be 'stronger and more duarable' and so not to need a horn slip to protect the sole. This mode, a brassie, has both the soleplate and a small lead backweight. It has also provided the foundation for a very clear stamping on the crown, "Patent R Simpson Regd No 21475". It is also stamped for the resellers "Mitchell Manchester" (in oval form)..

The head is joined to the shaft with a scare joint just as with other wooden clubs of the period and this straight hickory shaft is topped with a back polished calfskin shaft, probably a first replacement just after the turn of the 20th century. As durable as hornite may be, this is the first example of this patented club I have seen in 25 years.
Price $470.00
Reference: B403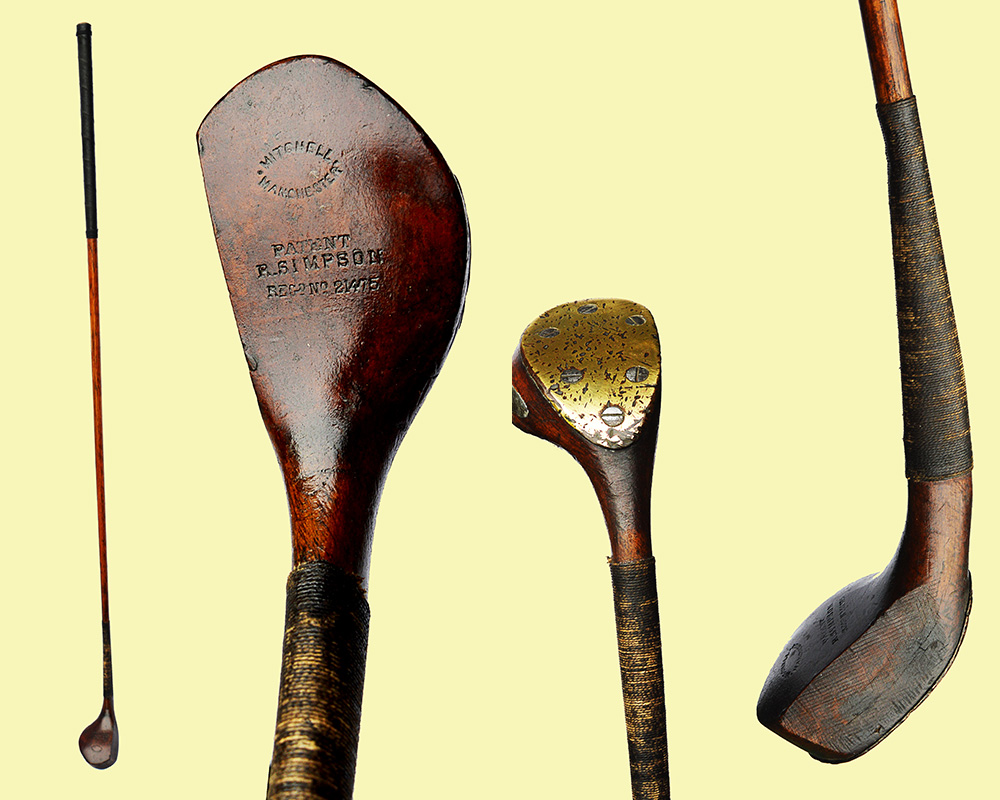 Click on the image to view it full size