W D - James Braid driving mashie
Maker: James Braid , Walton Heath
Date: 1925

Many of the clubs sold by the great James Braid were made by Gibson of Kinghorn. This has always surprised me, firstly, given his connection with Elie and Earlsferry and, secondly, his time as a clubmaker with Army and Navy as a clubmaker in London. Itís probably down to Gibsonís marketing savvy:in signing him up to the brand.

There was, however, a series of clubs sold during his time at Walton Heath always with the "Nr Epsom" qualifier and the rather impressive art deco "W D". Some also had a "little helper" tag (this one doesn't) predating the Stones by 40 years. I have not been able to establish who W D were.

The club's name is not marked but it is a mashie iron/driving mashie, a lengthened shaft from the mashie (38"), more upright, shorter head and, most of them with some device to increase the weight of the head relative to the hose. In this case it has a rigidly geometric musselback (trapezoioidal I think but my last geometry class was a while ago) form in keeping with the art deco styling. So, despite the mashie in the name it is a club for off the tee on long short holes or a long iron from the fairway or light rough.

The reverse has two ovals, the first with W D in its characteristic attractive art deco type face, the second with "J Braid Walton Heath Nr Epsom". The face has a hyphen pattern with a large "W D" in the sweeetspot.

The shaft is a straight, hiqh quality piece of hickory with the original brown leather grip. This is a lovely club, great historical connections and a terrific design.
Price $250.00
Reference: MA328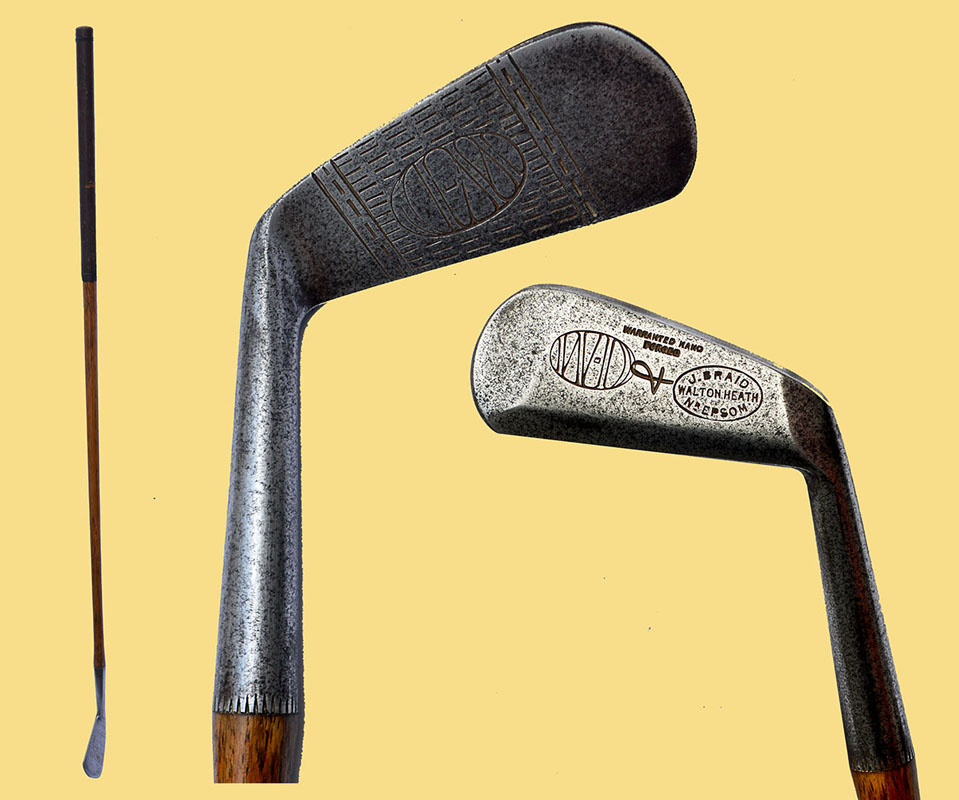 Click on the image to view it full size