Nicoll Crackerjack spoon
Maker: George Nicoll , Leven
Date: 1929

George Nicoll of Leven was the pioneer of matched sets of irons, beginning with the Indicator series in 1926 and this was followed by the Viking, Recorder and Crackerjack set extending well into the steel-shaft era but he made few hickory-shafted woods.

I have seen many Crackerjack irons, mainly steel-shafted, but this is the first hickory-shafted wood bearing the name I have come across. A large-headed spoon, it has a couple of features which suggest it was not bog-standard: a hand-marked face and a central lead weight through the sole. So it may be from the time of the first Crackerjack irons (1929) or a concession to an old-school buyer in the 1930s. So, yes it's probably rare but I can't move the market to determine if that makes it particularly valuable. You decide!

In addition to the features already described, the club has a horn slip secured by three simplex screws. The crown is marked "Geo Nicoll (in script) Crackerjack" Perfectly playable, it has a suede grip which jars a little historically but, if someone purchased it last time to use the club for play (and it is perfectly serviceable for that) that may be the reason for the grip.
Price $190.00
Reference: S275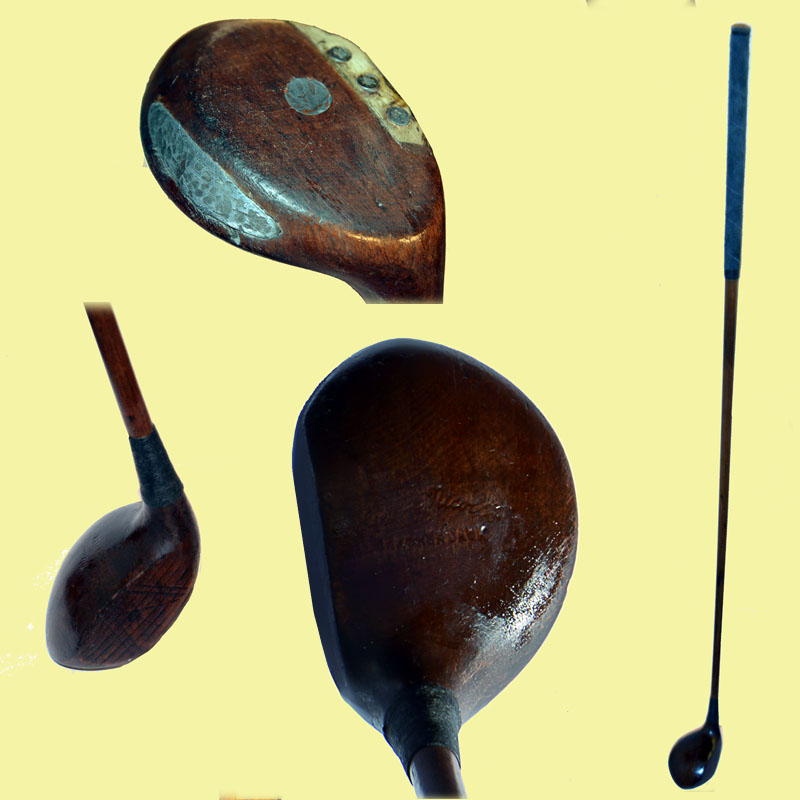 Click on the image to view it full size