"Anachronistic" Forgan/Lumley ladies' driver
Maker: Robert Forgan and Son , St Andrews
Date: 1907

This is as odd a club as I have seen recently. Typical 1920s 'stripie' driver, the shaft whipping below a soft black leather grip 'decorative' as was also prevalent in the 1920s. But the head is just a bit too elongated, more characteristic of Forgan heads from 1905-1910, and then there is a crown mark on the head, a symbol of the royal patronage of King Edward VII between 1901 and his death im May 1910 and not allowed to be used thereafter.

So, how to explain the anachronism? I think the clue is in the stamp for "Lumley" just above the stripe. Lumley's (qv) was a a large sports retailer in Glasgow and I think either they refurbished the head (or had a batch from Forgan where they asked for 'modernisation' and a stripe was added over the maker's name and crown). Maybe Forgan (or Lumley) had a bunch of wooden heads only as, unusually. the shaft does not have a Forgan stamp so the clum may have been shafted at the time of the 'striping' with the more modern whipping.

Anyone with a better theory, please let me know!

Anyway, the shaft is through-hoselled (i.e. flush with the sole) and has a horn slip secured by three hickory dowels, in keeping with the 1907 date. The sole is stamped, or rather embossed, with 'lady's' which, again I have not seen in a 1905-1910 club. In fact, other than mu suggestion that the shaft has been added in the 1920s I would not see the head as being a lady's one at all. the size does not seem smaller nor the backweight lighter than a man's club from the twentieth century's first decade.

It's a club with an interesting story: I'm just annoyed I don't know what the story is.
Price $195.00
Reference: D348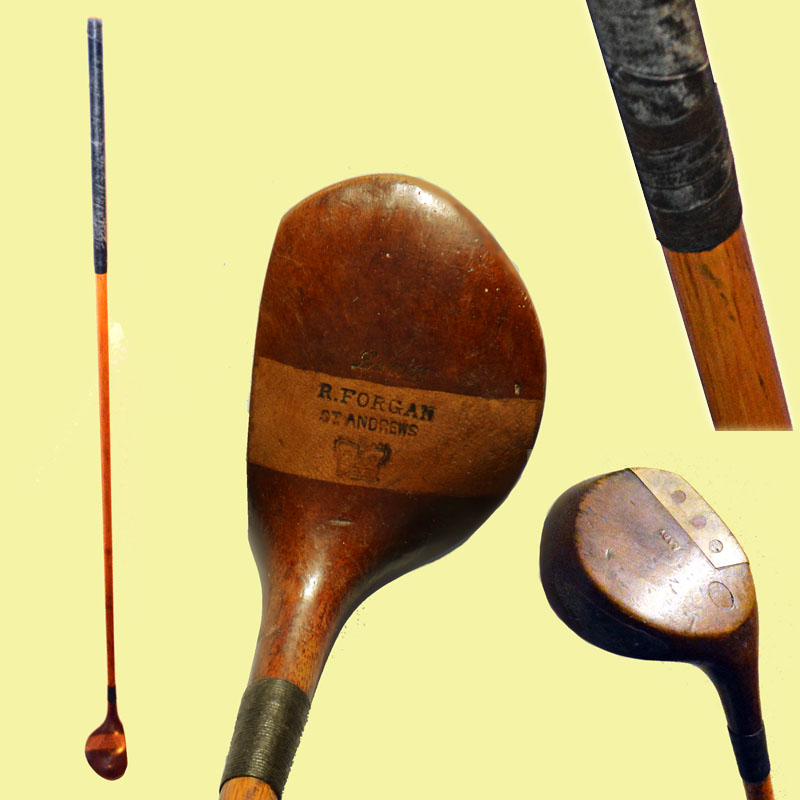 Click on the image to view it full size