Sammy for Fred Smyth
Maker: Spence and Gourlay , St Andrews
Date: 1909

A club made in St Andrews by the pre-WWI partnership of Spence and Gourlay but exported across the Irish Sea to County Dublin as is stamped on the back "Fred Smyth, Hermitage GC, Dublin" in oval form. This pleasant woody course in Lucan, founded in 1905, is still going strong and is a familiar site when coming off the motorway from the west and joining the traffic jam into the city and Smyth was professional here between 1908 and 1911.

The sammy was a variation on the jigger (but usually with a shorter, wider head) used for shots around the green.

In addition to his name, it has "S & G" in a club, Spence and Gourlay's cleekmark, "Special", "Sammy" and "Warranted Hand Forged" on the reverse of the head. The face has a diamond dot pattern.

The hickory shaft, in excellent condition, is stamped "Selected" just below the polished calfskin grip, also in near perfect condition.
Price $220.00
Reference: SAM221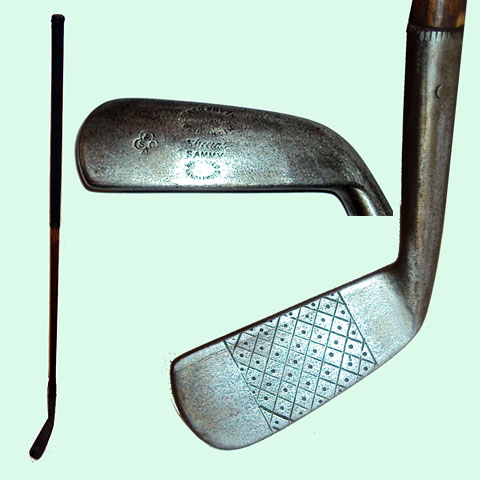 Click on the image to view it full size