Nicoll iron for J C Smith
Maker: J C Smith & Son , Monifieth
Date: 1927

A 2 iron forged by George Nicoll in Leven (it bears his mid 1920s hand cleek mark) for J C Smith & Son of Monifieth whose details are stamped on the reverse of the head in script. The head is also stamped "2 iron", "Rustless" and "Hand Forged in Scotland". There is a little dot stamped close to the toe. This is an inspection mark put on by the foreman in the Nicoll factory signifying that the head had passed inspection before sale. The face has an enclosed dot pattern.

A good straight hickory shaft ends with what is probably the original polished calfskin grip.
Price $95.00
Reference: LIR349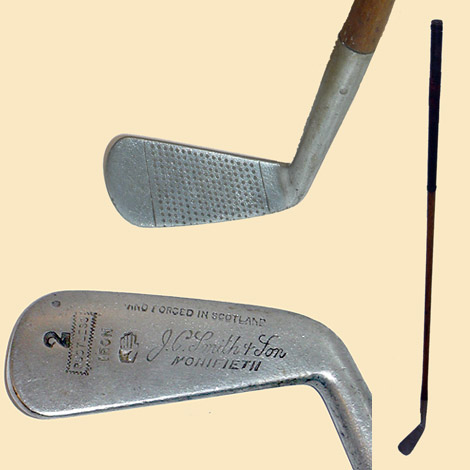 Click on the image to view it full size