Bulldog brassie
Maker: P B Drake , Harrow
Date: 1926

This is a very good example of a bulldog brassie, a club with the shaft length of a brassie but the increased loft of a spoon and with a curved sole to cope with cuppy lies. The "bulldog" comes from its broad, squat head, in this case formed from an attractive piece of persimmon stamped "P B Drake Harrow GC" on the crown.

The face has a triangular black fibre insert decorated with six hickory dowels. Protection is afforded to the sole by means of a brass soleplate fastened by six screws.

The straight hickory shaft is in excellent condition and the smooth leather grip almost certainly the original. Another piece of golfing history is thrown in with the rubber sleeve, 2.5" long, covering the "bell end" of the club. Made by the Avon Rubber Company in England, and so marked, it is also stamped "Nonslip Sleeve" and "Dell's Patent No 215172 Patented in England".

Certainly playable but a very attractive display club.
Price $260.00
Reference: B373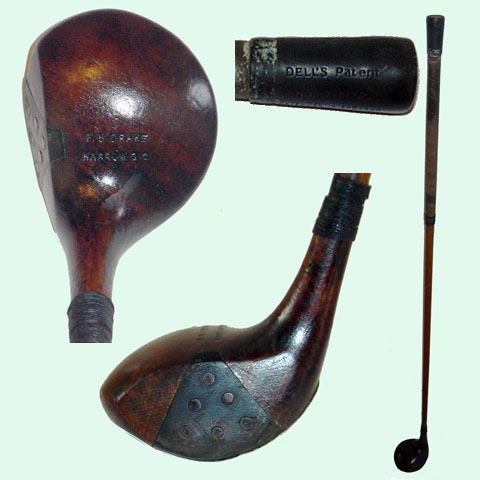 Click on the image to view it full size