Scareneck spoon
Maker: J C Smith & Son , Monifieth
Date: 1903

A very elegant spoon with small, darkly-stained persimmon head joined to the shaft with a very thin scare demonstrating the craftsmanship of its Monifieth maker. The crown is stamped "J C Smith Special" with much of the original gold paint still visible. The head has a leather insert secured by nine cobblers' nails. Sometimes these were added as repairs to clubs but, in this case, as can bee seen from the marking running across the wood through the insert, it was an original element, to protect the club from the damage it could take striking the old solid gutta percha balls. Further protection is given to the head by a horn slip fastened by three hickory dowels.

The hickory shaft is in excellent condition and still perfectly straight. The original woollen listing is still on the club, covered by a worn replacement sheepskin grip.

An eye-catching display club which can still give the flavour of the golf of its day by striking a ball now and again.
Price $440.00
Reference: S265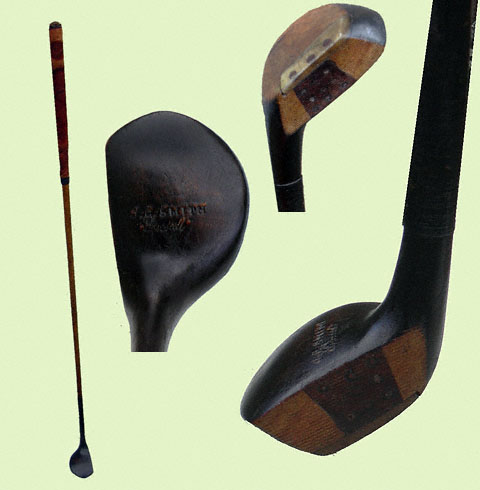 Click on the image to view it full size