Jack White palakona brassie
Maker: Jack White , London/Gullane
Date: 1925

An interesting and eye-catching large-headed brassie from the Open Champion of 1904, with its whippy palakona shaft formed in a hexagonal cross section by pieces of cane, a form first developed for fishing rods by its inventors Hardy Bros of Alnwick. The crown of the persimmon head is stamped "Jack White" (in signature) and, below this, "Registered Trade Mark". The head is protected by a horn slip (slightly chipped) below a two piece brass soleplate secured by two slightly different type of Allen key-like crews. The sole is stamped "Brassie" and, being through-hoselled, the split cane structure of the shaft can be clearly seen. Some rubberised material keeps the canes together in the grip area an above this is a suede grip. Patent information about Palakona, and the specific shaft type, is inked just below the grip.
Price $430.00
Reference: D310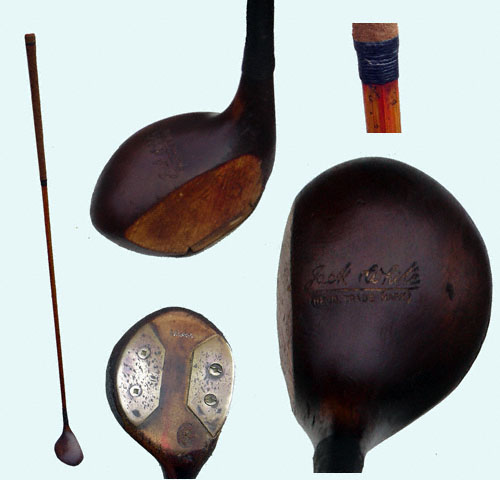 Click on the image to view it full size