"The Dint" silver driver
Maker: Dint Patent Golf Club Company , Malvern
Date: 1924

A very good example of a driver in the Dint series of woods with a particularly eye-catching faceplate. The Dint company used Berlin silver as a combined faceplate and soleplate and the soft metal frequently fractures at the bend on the club's leading edge but this one is intact. The faceplate has a triangle inscribed upon it with cross lines creating an inverted "V" above it, stamped "Patent" and where the plate is secured by four brass screws. There is a definite convexity to the club echoing the design of the 1890s bulger clubs which used this feature to be more forgiving on shots not finding the sweetspot. The soleplate is stamped "Silver", "The Dint" (in script), "Patent" and "Driver". It is secured by a further three brass screws.

A light, hollowed-out backweight produced a head weight customised to a particular player's requirements.

The hickory shaft is straight and in excellent condition. The current grip appears to be the third in use on the club but clearly the changes were made early in its life as it has a typical mid to late-1920s polished burgundy leather affair.

A fine example of a very collectable club.
Price $700.00
Reference: D307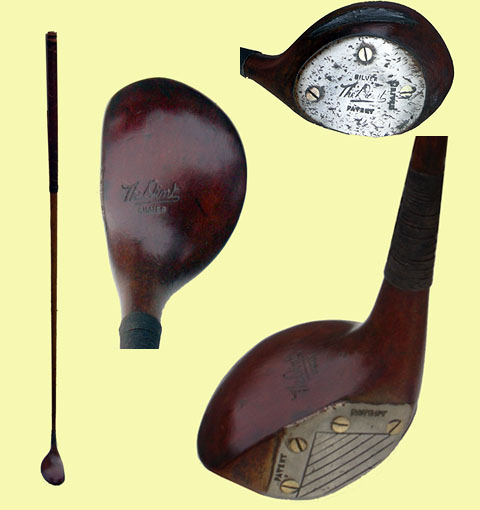 Click on the image to view it full size