Juvenile spoon
Maker: James Braid , Walton Heath
Date: 1920

An attractive little spoon, only 31" long, with proportionately smaller head stamped on the crown with the signature of five times Open Champion James Braid. Although it has a full brass soleplate, like a brassie, it has the loft of a spoon. In addition to the soleplate the head is protected by a black fibre slip. The head is a little bashed, with nicks to the face and slip, a few dents on the crown and dings on the soleplate and a hairline crack (repaired) at the back of the head but these have not been restored as they add to the charm of the club. Clearly it has been much played with and it is nice to see juvenile club which has been used with enthusiasm and perhaps started a small child on a lifetime's pleasure in golf rather than one in pristine condition, bought by a father for a child who did not share his passion.

The straight hickory shaft, in fine condition, is topped with a brown leather grip which is probably the original.
Price $150.00
Reference: S262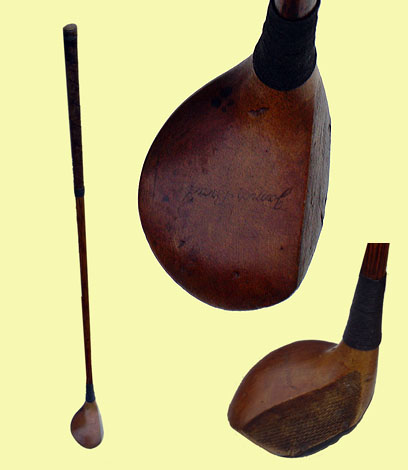 Click on the image to view it full size