Wimbledon scareneck driver
Maker: Rowland Jones , Littlehampton/Wimbledon
Date: 1904

A very fine dark-stained persimmmon driver from am excellent clubmaker and top player. The large head is connected to the hickory shaft by a short (3") scare and is very clearly stamped "Rowland Jones Wimbledon Park Special" and also has the original owner's initials "WGB". The club is protected by a black fibre slip secured by three hickory dowels.

The shaft is straight and in excellent condition, topped with a sheepskin grip with blue under-listing.
Price $560.00
Reference: D300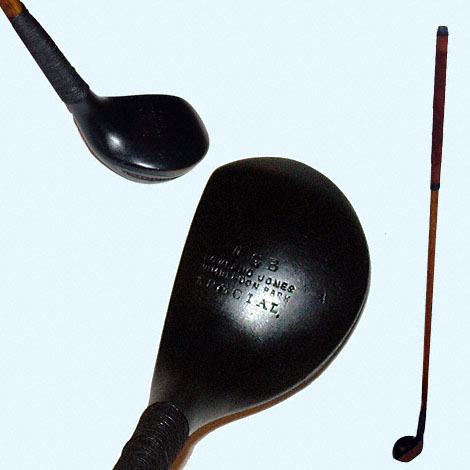 Click on the image to view it full size