Harrower patent putter for Stockport.
Maker: Thomas Harrower , Carnoustie
Date: 1912

Thomas Harrower patented this putter in 1912 (the only year he worked as a cleekmaker). He was a true cleekmaker i.e. making heads for others because the crown of the putter is stamped "M Barrie Stockport Maker" in an oval. It is not clear who this reseller is. Peter Barrie was professional at the Stockport club from 1907 - 1911 (laying out the course with Sandy Herd in 1908) so we assume this is a relation of his.

The putter itself has a steel mallet head, somewhat wider than a Brown-Vardon type, with a very "sawn-off" appearance. It slopes back from the face which is around 3/4" deep and marked with an enclosed hyphen pattern within decorative bars. In addition to the "Barrie" information, the crown is stamped with Harrower's heart cleekmark, "Harrower's No. 4326/11 Patent Putter" and "Warranted Hand Forged" (in oval form).

The hosel is particularly short and narrow. The hickory shaft has a slight bow to it and carries a soft black leather grip.

Given the short time Harrower was in business, this is a rare and interesting club.
Price $580.00
Reference: PUT392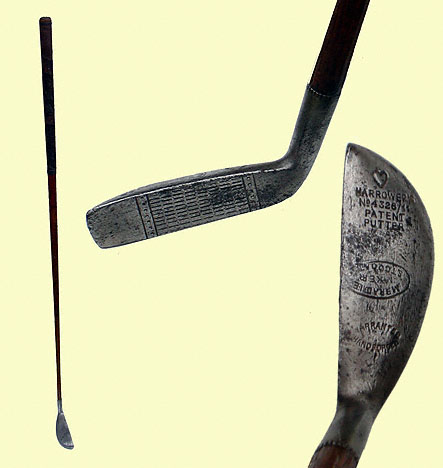 Click on the image to view it full size