Ladies' brass putter
Maker: Robert Simpson , Carnoustie
Date: 1910

For a company with such a large output of clubs, brass putters from Robert Simpson are relatively scarce. This smooth-faced brass putter, like many of his clubs, was forged by James Gourlay, also in Carnoustie, and carries the moon and star cleekmark Gourlay used from about 1905 onwards. The reverse of the head is also marked "R Simpson Carnoustie" within a double circle. There is a mark of "L" for "ladies'" also.

The hickory shaft, in any case light to suit a lady, is rather frail towards the top, perhaps from prolonged water contact, and with a slight kink at the bottom. It is robust enough for putting but not for throwing high in the air if the putt is holed or for smacking over the thigh if the putt is missed. Then again, ladies don't do that sort of thing, do they? The club carries a soft dark brown sheepskin grip.
Price $180.00
Reference: PUT380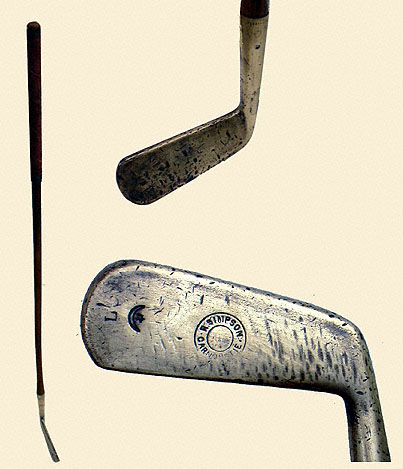 Click on the image to view it full size