Brass jigger
Maker: Robert Simpson , Carnoustie
Date: 1905

Brass was often used for putter heads, its softness said to give better "feel" to a putt, but it was also used on occasion for other irons. Here its softness was its downfall as it was simply not rugged enough to be used in, for example, a mashie. Other than some cleeks made in the USA at the end of the 19th century, and some Spalding experiments in the second decade of the 20th century, (and these were both, strictly speaking, phosphor bronze rather than brass) the only other club where it was likely to be successful was the jigger.

There are no makers' marks remaining on this club but, knowing his experiments with brass clubs, and that this club came from Carnoustie, it was probably made by Robert Simpson. The age, too, is difficult to judge: it could be any time from the early jiggers of the 1890s through to the 1920s. The hosel gripping the shaft in the manner of very early clubs looks old but is probably a matter of necessity to keep the soft metal head in place. A good straight hickory shaft with replacement soft sheepskin grip.

It is a very eye-catching and attractive club and just encourages the lightness of touch required with the jigger.
Price $245.00
Reference: SAM216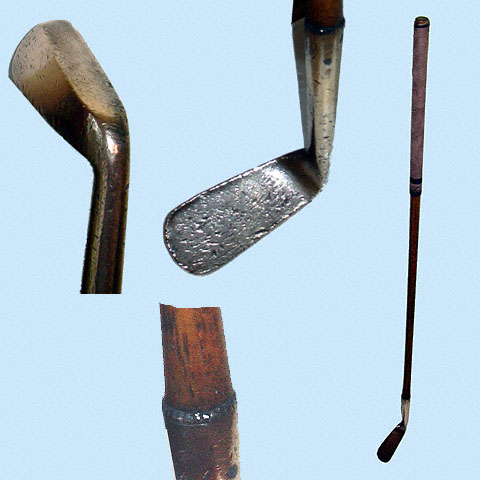 Click on the image to view it full size