Scareneck driver
Maker: Andrew Forgan , Perth/Glasgow
Date: 1904

It would be interesting to know the full story behind this club which has one of the whippiest hickory shafts I have come across in a club of this age. There are clubs from the late 1920s with extremely whippy shafts but this merely reflects the dwindling supply of good hickory and the making of shafts from branches. This, though, is a well-made shaft, of good quality hickory from a renowned clubmaker and still perfectly straight. Perhaps an older gentleman came into the shop saying he had trouble getting the ball into the air and wanted the whippiest shaft possible. On returning to try the club he may have been amazed at how literally his instruction had been interpreted as two long bands of whipping have been added to the shaft to reduce the whippiness somewhat.

In any event this is a handsome club. The crown has a clear stamp of "A Forgan" below which is his mark of a tree, supposedly taken from Glasgow's coat of arms, and below this "Reg'd". The sole has a horn slip secured by three hickory dowels.

The grip is made from thick hide, dyed red, and below is woollen underlisting.
Price $790.00
Reference: D291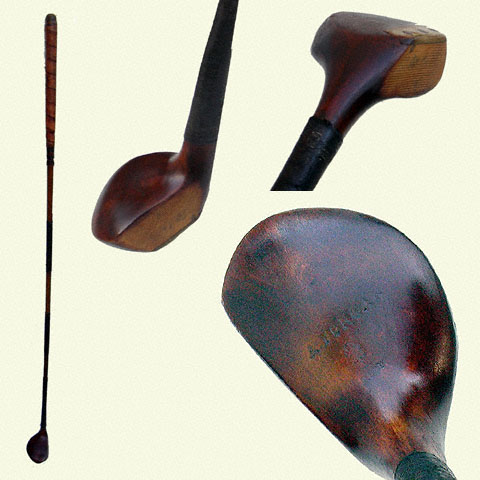 Click on the image to view it full size