Ladies' putting cleek
Maker: Joshua Taylor , Aldeburgh/London
Date: 1925

A ladies putter produced for J H Taylor's little brother, Joshua. Joshua served his clubmaking apprenticeship with his brother's firm, Cann and Taylor, and they later made clubs for him, as here, with the mark of a running greyhound.

The reverse, somewhat pitted, is also stamped with "Josh Taylor" (in signature), "Selected Putting Cleek", "L" (for Ladies'), "Warranted Hand Forged" and "Richmond Park", the south-west London club which Taylor served as professional in the 1920s.

The face has an enclosed square dot pattern. A good original shaft is also stamped "Josh Taylor Selected". The soft, deep-burgundy coloured leather grip is a replacement.
Price $150.00
Reference: PUT372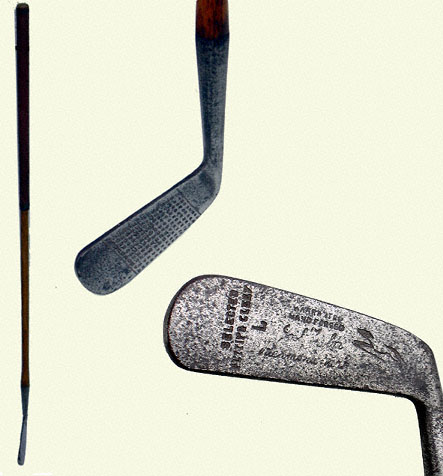 Click on the image to view it full size