General-purpose iron
Maker: Alexander Patrick , Leven
Date: 1898

At first sight, from the shape and loft of the head, one might call this a spade mashie but it pre-dates that club by quite some time and also has a longer shaft. It is smooth-faced and stamped on the back "A Patrick Leven" with the name curved in the earliest form of Patrick's mark. It is also marked "Warranted Hand Forged" which is why the club has been dated to 1898 or thereabouts. It does, in fact. look earlier but I have trusted to Peter Georgiady's view that this was first marked on clubs about 1897.

The club has a perfectly straight hickory shaft with the original sheepskin grip and woollen listing beneath.

A good eye-catching collectors' club or a solid implement for use in pre-1900 hickory tournaments.
Price $310.00
Reference: LIR320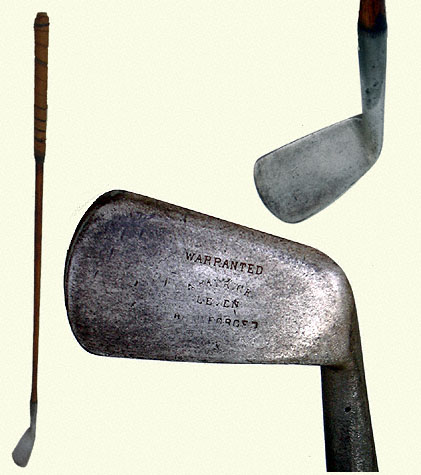 Click on the image to view it full size