Canadian "tinned" mashie
Maker: R & W Kerr Read , Montreal
Date: 1904

Before stainless steel came into common use for clubs, one of the methods used to protect iron clubs from rusting was the deposition of a thin layer of tin on the head. This was frequently used on mashies and gives rise to the term "tinned mashie". The most noticeable feature of the process was that it didn't work: the tin simply wore off. That is the case here and only some shininess on the reverse of the head reveals that this club had the treatment.

It is Scottish-made as it is so marked and "Warranted Hand Forged" but sold in Canada through R & W Kerr Read of Montreal whose name appears in script in the centre of the head. The reverse is also marked "Standard Mashie" and has the owner;s initials stamped on. The face has an enclosed hyphen pattern.

The hickory shaft is straight and of good quality and finished with the, probably original, smooth brown tan leather grip.
Price $105.00
Reference: MA275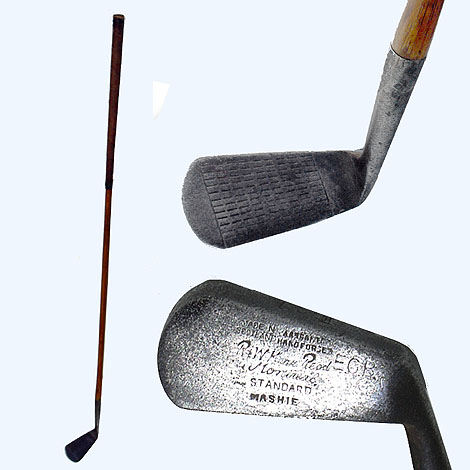 Click on the image to view it full size