Army and Navy Bulldog Spoon
Maker: Army & Navy Cooperative Stores , London
Date: 1908

Very much the classic form of bulldog club, a wide squat head and very curved sole without any covering metal plate, this one comes from the famous London firm where James Braid once worked as a clubmaker. The head is very clearly stamped "Army & Navy CSL London". The face is protected by a black fibre insert secured by eight hickory dowels.

The through-hoselled shaft is original and stamped with "A & N CSL" as shown in the photograph. There is another stamp "7 U" which, presumably, was a company-specific identifier for the shaft. It is topped with a smooth, soft, dark leather grip.
Price $295.00
Reference: S240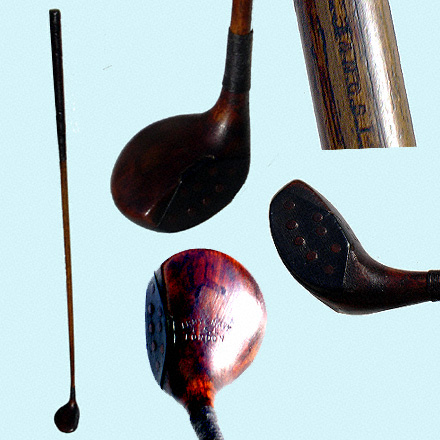 Click on the image to view it full size