Paragon putter
Maker: George Forrester , Elie and Earlsferry
Date: 1923

A nice all-original putter from James Forrester, son of the famous Elie clubmaker who joined his father in the business in 1903 and continued it after George's retirement. The club has a thin longish hosel (4.5") with a gooseneck. The club has enclosed closely spaced lines and the reverse is marked "Paragon Putter", "Warranted Hand Forged in Scotland" and "Forrester Junior Elie Earlsferry" in oval form. There is also an inverted triangle containing the characters "B & S A" which shows the head was forged for Forrester by Brodie and Sons in the neighbouring village of Anstruther.

The hickory shaft is short but has not been cut down. The heavy head does not suggest it is a ladies' club so presumably it was made either for a short gentleman or merely to accommodate a particular putting style. The grip is ribbed burgundy leather, in excellent condition, with "Fairway by Balmforth of England" marked upon it in gold lettering.
Price $170.00
Reference: PUT345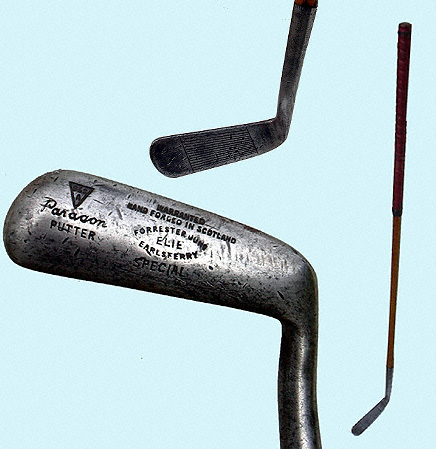 Click on the image to view it full size