Rustless Nap Iron
Maker: George Nicoll , Leven
Date: 1927

A "Nap" style iron, i.e. with bevelled heel and toe, made by Nicoll of Leven and in near-perfect original condition. The reverse of the head is marked with the Nicoll signature, "Leven, Fife, Scotland", "Hand Forged in Scotland", "Nap", "Iron", the number "3", and their later "Rustless" mark surrounded by zig-zagged lines, The face has a dot pattern within angled lines.

The hickory shaft is perfectly straight and the soft burgundy leather grip is in excellent condition and original. Typical of late-20s clubs, it has a brighter band of red below it to set off some decorative whipping.
Price $100.00
Reference: LIR289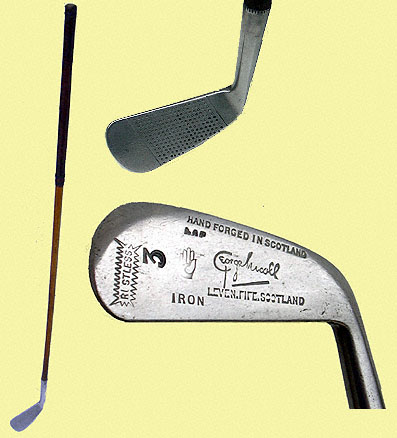 Click on the image to view it full size