Paxton Brass Putter
Maker: Peter Paxton , Musselburgh
Date: 1892

A very solid ladies' (or short man's) brass putter from a famous emigre Scottish clubmaker. The head is unmarked and probably never was stamped and has heavy hosel nicking which really grips the shaft, characteristic of 1880s clubs. The form of the head is very similar to one we have seen by Nicoll, which we were able to date fairly precisely, and this is how we arrive at 1892.

The hickory shaft is thin for so heavy a head, and about 1.5" shorter than a man's club. The grip, almost certainly original, is a solid piece of hide through which one can see the original woollen underlisting. Just below the grip, the shaft is stamped "P Paxton".
Price $330.00
Reference: PUT337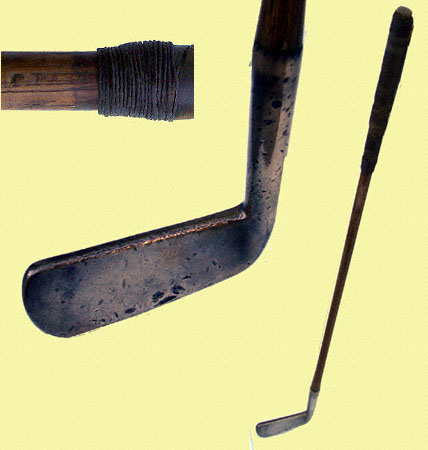 Click on the image to view it full size