Craigie putter
Maker: J & W Craigie , Montrose
Date: 1910

A ladies putter with narrow elongated head and long thin hosel, an expression of one of the many theories of improved putting, this resulting in greater "feel" being transmitted up the shaft to the hands.

The face has an enclosed line pattern. J & W Craigies used two cleekmarks and both are visible on the reverse of the head. The rifle mark sits by the toe with "L" and "Putter" stamped below. Their shooting star mark is in the middle of an oval surrounded by "J & W Craigie Montrose". Above the oval is "Hand Forged" (in script) and "Special" below.

The shaft is a beautiful piece of ring hickory (wood close to the centre of the trunk), of high quality and still straight as one would expect from a firm of timber importers which the Craigie brothers also were. It is stamped "Craigie Special". The burgundy leather grip is a later replacement though it appears to have some of the original listing below.
Price $170.00
Reference: PUT326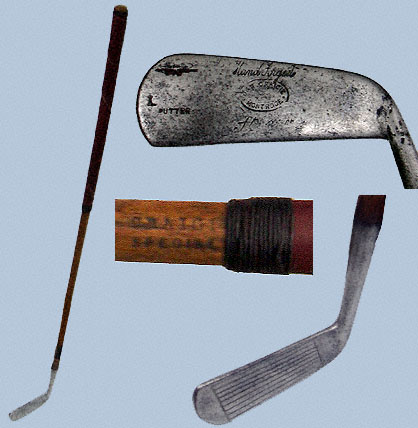 Click on the image to view it full size