Cochrane jigger
Maker: J P Cochrane , Edinburgh
Date: 1922

A jigger made in Edinburgh, sent across to Belfast and bought by someone who brought it back to Edinburgh ! The reverse of the head is stamped with the Cochrane "knight in armour cleekmark" and, in script, has the name of a Belfast reseller, faded but almost certainly Hamill and somebody else. The Hamill would be either Harry or Joe, both professionals at various clubs in the north of Ireland from 1900 until about 1930. The reverse is also marked "Jigger", "Warranted Hand Forged" and "Special". The face has an enclosed hyphen pattern.

The shaft looks as if it may have been replaced but, if this is the case, it was done in the 1920s and may just have been to suit the owner, who valued it enough to stamp it with his name, J Townsley, three times. We know he lived in Edinburgh which is why we can identify the club's travels. There is some gouging damage to the shaft in the bottom third but, as it does not affect the club for play nor, being on the back, does it detract from its display potential, we have made no attempt to disguise it.

The deep burgundy soft leather grip and decorative whipping also dates from the 1920s.
Price $120.00
Reference: SAM213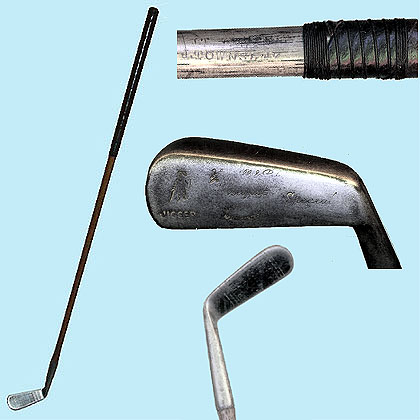 Click on the image to view it full size