Tivoli iron for Harry Hunter
Maker: Alexander Patrick , Leven
Date: 1920

The Tivoli was an interesting design from Alex Patrick with a heavily weighted toe resulting in a bi-level back. The reverse of the head has Patrick's spur mark (although the club was probably forged for him by Anderson of Anstruther). It is also marked "Tivoli" , "Mashie" and has the club number "3". The club was made for Harry Hunter, professional at the Royal Cinque Ports for more than forty years and "Harry Hunter Deal" is stamped in an oval on the toe. The face has an enclosed dot pattern.

The straight hickory shaft ends with the original soft deep burgundy leather grip. A good example of a very collectible club.
Price $160.00
Reference: MA240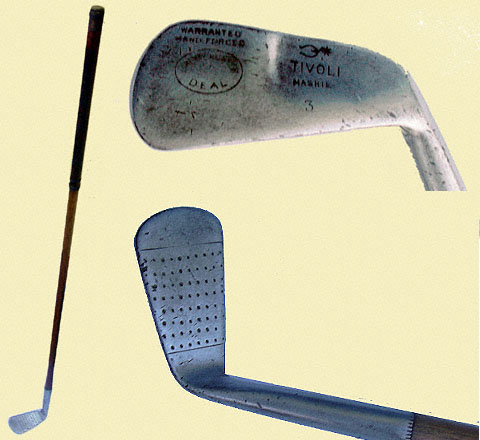 Click on the image to view it full size