Scareneck Patrick Spoon
Maker: Alexander Patrick , Leven
Date: 1901

An interesting spoon from Alex Patrick of Leven. A socket head model marked "Est'd 1847" is quite common. This, on the other hand, has quite a few distinguishing features suggesting it was custom-made for one of his older customers who favoured traditionalism.

Firstly the head is secured to the shaft with a scare rather than a socket and quite a long one at that, reminiscent of Patrick's work in the 1880s rather than his later short splice clubs. Secondly, the head looks as if it was specially selected as it is a beautiful piece of golden persimmon. Finally the shaft is much longer than one would expect of a spoon, being the same as that of a driver. Either the customer was a very tall fellow or had learned his golf in the featherie era when shafts were longer and balls were swept up from a much flatter swing plane rather than struck in the modern manner.

The crown is marked "Alex Patrick Estd 1847 Leven Special". The club has a full brass soleplate, original lead backweight, straight hickory shaft and a soft black leather grip, probably a first replacement.
Price $540.00
Reference: S222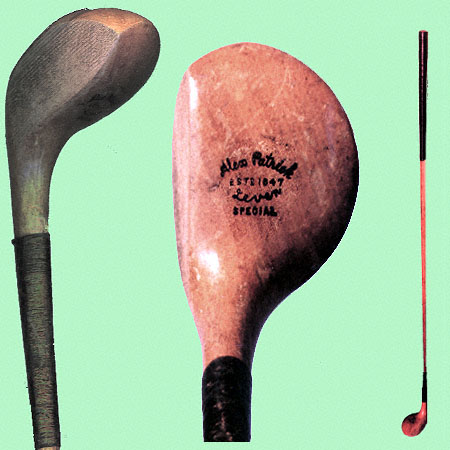 Click on the image to view it full size