J B Halley Chipper
Maker: J B Halley , London
Date: 1925

A quite unusual club for its day, a chipper from the J B Halley Co of London. The clubhead is shaped like a small mashie-niblick but with more loft. It has an enclosed square dot face and the reverse is stamped with Halley's shell cleekmark, the model number "52" and "Special Pitcher", "Warranted Hand Forged". In very good condition with a few dings round the edges as you would expect of a club designed to get you out of trouble.

Good straight hickory shaft topped with original dark brown leather grip.
Price $130.00
Reference: CHI001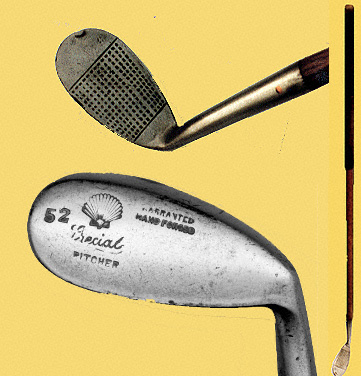 Click on the image to view it full size