Winton Ladies' Putter
Maker: William Winton , Montrose / London
Date: 1925

Well-preserved ladies' blade putter with strong clear stampings from Winton of Montrose. The club has an enclosed angled-line face and the reverse is stamped with the Winton diamond cleekmark, "Hand Forged", "Special Putter 22" (the model number) and "L". It also bears the name and addressof the retailers, "Sportsmans Emporium 103 St Vincent Street Glasgow". This shop, at one time, boasted the largest range of golf clubs in the world.

The straight hickory shaft is original as is the black smooth leather grip.
Price $105.00
Reference: PUT246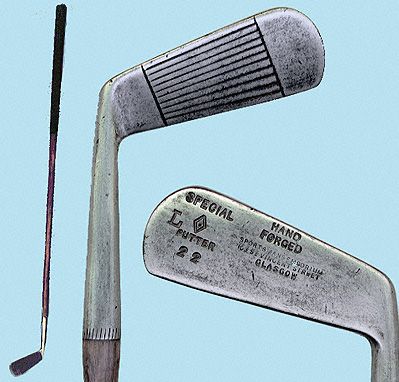 Click on the image to view it full size