Juvenile Spalding cleek
Maker: A G Spalding & Bros , London/Edinburgh
Date: 1912

A juvenile Spalding club from their Fife works and in very good condition. The head has an enclosed lined face and a diamond back. The reverse is stamped with the anvil cleekmark, "cleek" and "David Wilson London Scottish" in a diamond.

The shaft finishes with a band of whipping just above the hosel as it is thinner than the hosel opening. However, it probably is the original shaft as the blasck leather grip is original and perhaps a thinner shaft was used to keep the weight down in a child's club. A very nice display club from a very famous club (see the entry on David Wilson in the clubmaker section).
Price $110.00
Reference: LIR222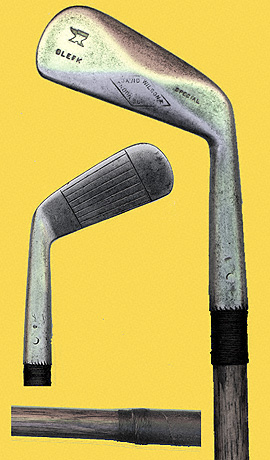 Click on the image to view it full size