Worplesdon Mixed Foursomes Medal

Date: 1922

Here is a real treasure. A solid hallmarked silver medal (1.25" diameter, .25" thick) in perfect condition. Although it is a very attractive piece of silver, its real interest derives from the competition for which it was awarded.

The Worplesdon Mixed Foursomes was the favourite tournament of the greatest of all golf writers, Bernard Darwin, and he devoted an entire chapter of his "Golf Between Two Wars" book to it. The tournament attracted the top amateurs of the day, Cyril Tolley and Roger Wethered both being winners and, on the distaff side, Cecil Leitch and Simone de la Chaume. It was, however, Wethered's sister, Joyce, who dominated the competition, as she did women's golf of the 1920s and 1930s. She won it eight times, with seven different partners, and has "the best swing of any man or woman I have ever seen", according to Bobby Jones. She was one half of the winning pair in 1922, the second time the competition was played, and this is the medal awarded to the runners up , Mrs Patey and Noel Payton (in 'the position of hero number one', according to Bernard Darwin.
Price $1080.00
Reference: MEM267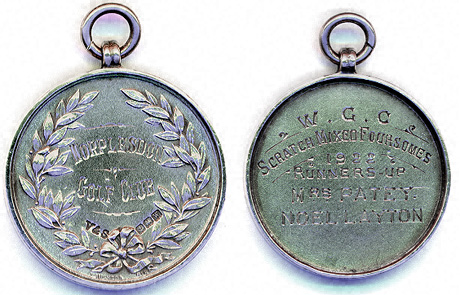 Click on the image to view it full size