Open Championship
---
---
1892: Muirfield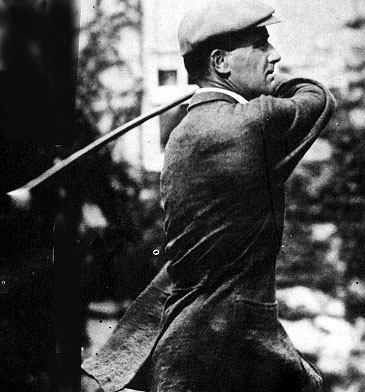 ---
The first of the great amateur, Harold Hilton's, two victories, the first time the championship involved playing four rounds and the first time it was played over Muirfield.

There were fears the event would be a disaster. In the rota, Musselburgh should have hosted the Championship but the Honourable Company of Edinburgh Golfers decided they wanted it at their new Muirfield home. Musselburgh folk were understandably peeved and, failing to obtain a change of the mind on the part of the Honourable Company, announced a rival competition in Musselburgh over two days at the end of September with a larger prize, £30 and a gold medal. The Honourable Company then raised the first prize in the Open to £36 and a gold medal as opposed to the previous Ď£10 and a worthless medalí in the words of the Aberdeen Journal. In the end, as NBC will tell you, you canít have too many golf tournaments and both took place, the Musselburgh one the week before the Open, and competition benefited the professionals with improved prize money.

66 entered and 64 teed off. The leading amateurs both started well, Horace Hutchinson led after the first round with a 74 with John Ball jr a stroke behind. Hilton and Mure Fergusson were on 78 with Hugh Kirkaldy, David Brown and Sandy Herd the only professionals ahead of them.

Second round scoring was much higher with only nine players breaking 80. After the first day John Ball jr led with 155 but the professionals had rallied and he shared this lead with Herd and Willie Park.

Conditions on the second say were near perfect. Hugh Kirkaldy went round in 73 bettering Hutchinsonís record of the first round. The record, though, was short-lived with Hilton returning a 72. Herd and Park both faded with a 77 and 80 respectively but John Ball jr remained in the hunt with a 74. His final round was a 79 which left him tied on 308 with Kirkaldy and Herd who took 75 and 76 respectively. There was a feeling in the crowd that it could all end in a tie but that was not Hiltonís plan. He went out in 38 and back in 36 to win by a margin of three strokes.