Clubmakers
---
Lemuel Ace
Langland Bay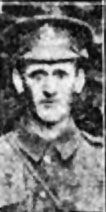 Born in Mumbles, Glamorganshire in 1884, where he went to Oystermouth school, Lemuel Philip Ace was listed as a domestic gardener in the 1901 cenus. In the 1911 census he is married to Catherine with daughter Gladys, and working as a groundsman on the golf links (Langland Bay).

He had been in the Army reserve from December 1915 but was mobilised and posted to Belgium in March 1917. He died from wounds caused by a shell splinter on 30 October that same year and is buried in Solferino Farm Cemetery Breien near Leper (The Ypres Salient).

The Langland Bay club has a marble plaque in his honour and 'to all those who lost their lives in both World Wars'.

Search the catalogue for clubs by this maker