Clubmakers
---
Alex Duthie
Carnoustie/Canada/US etc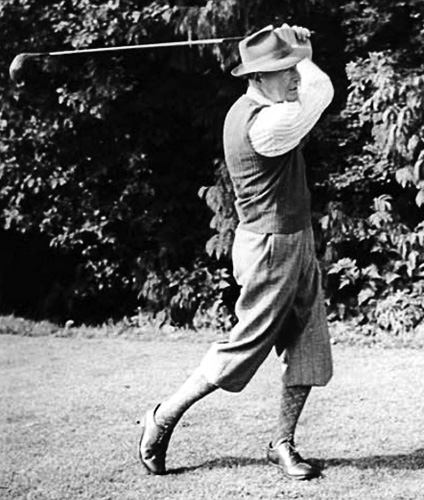 Many Carnoustie lads left the town to be golf professionals elsewhere: few will have totted up the miles Alex Duthie did as a golf professional on four continents. A scratch member of the Carnoustie club, with his name on many of the club trophies, a lull in the building trade in 1902 saw Duthie and two fellow masons, James Spalding and Thomas Affleck leave the town for Port Elizabeth, South Africa, at the end of January 1903.

He seems to have quickly found employment as a professional in the Transvaal. on a course close to an army base where most of the members were officers.

I have not yet discovered what he did in Australia and New Zealand but the Dundee Evening Telegraph, describing his visit home in 1908, uses the term 'stationed' for his time in New Zealand, a word they used at the time for someone serving as a golf professional. He sailed across the Pacific from New Zealand and arrived in San Francisco in 1907 and survived the great earthquake, admittedly not all bad news for a builder. While employed in reconstruction of he city, a career in professional golf was suggested to him by fellow Carnoustian, George Smith who took him on at the Claremont club in Oakland. From here he found employment as professional to the Waverley Club, Portland, Oregon.

Continuing north, he became professional at Macaulay Point, Esquimalt, BC in 1909 but 'couldn't resist the opportunity on the flourishing mainland' to take over at Jericho, the first Vancouver course in 1910 and where he remained until it was taken over by the military as an airfield in World War II. He immediately overhauled the design of the 9 hole course and later expanded it to 18, a project eventually completed in 1924. He also played a part in the design of the course at Coquitlam, then called the British Columbia club. During the Second World War he deputised at Capilano for Jack McKinnon, a Forfar man who was a captain in the US army. He was apparently a very popular pro with many coming to play with him including King George VI when he was Prince Albert and the Duke of Windsor when he was Prince of Wales.

Something of a hole-in-one specialist, he achieved 14 in his lifetime including a 'world record' two on successive holes, at the 3rd and 4th in a tournament at his home club in Vancouver in 1911. He only came back to Scotland on holiday once, in 1908, and on a visit to Forfar bagged another hole-in-one.

He died in Vancouver in 1947.

Search the catalogue for clubs by this maker