Clubmakers
---
Arnaud Massy
La Boulie/La Nivelle etc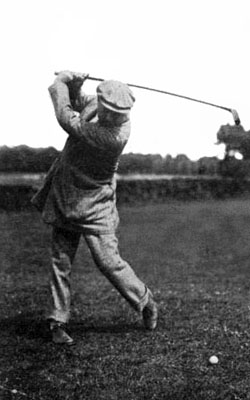 Without a doubt, France's greatest golfer he won the first French Open in 1906, retained it the following year and also in that year became the first non-British golfer to win the Open Championship, one of only four winners outside of Braid, Vardon and Taylor between 1898 and 1914.

He came close to another Open win in 1911, losing to Vardon in a play-off but won the Belgian Open that year and the Spanish the next. In 1925, aged 48, he again won the French Open (for the fourth time) and followed that with further Spanish victories in 1927 and 1928. He was also the individual champion and successful French captain at the rather curious Inter-Allied Games in 1919.

He was one of the finest putters of his day but he was almost a throwback to earlier golfing times. A self-taught golfer, he began playing left-handed and then made the switch. Writing in 1916, Henry Leach notes that 'he is addicted to the two-V grip of the hands on the club instead of the overlapping one. He and Alec Herd are the only two great professionals of modern times who grasp the handle in this manner.' But look too at the picture here: that high right elbow is reminiscent of the players sweeping featheries into the air with long-nose clubs.

There is a strong Scottish connection. He was born in Biarritz in 1877 where he caddied as a young man but came to North Berwick in 1898, with the support of Sir Everard Hambro, one of the rich amateurs who played at Biarritz, and gained a professional licence for the West Links. He had learned some clubmaking skills from Willie Dunn's assistant, Willie Tucker, but now undertook a proper apprenticeship under the famous North Berwick clubmaker James Hutchison. He formed a stronger connection to Scotland by marrying a local girl, Janet "Jinty" Henderson, in 1903. The town has always treated him as one of their own: a crowd turned out to greet him at the railway station after his triumphant return from Hoylake and accompanied him home with the claret jug and the band playing See the Conquering Hero Comes and, more recently, a green plaque, in a series honouring North Berwick's famous golfing sons, on his former home.

Of course he did much to popularise golf in France, professional at La Boulie from 1905 and later at La Nivelle where he taught Simone Thion de la Chaume and André Vagliano. He imported clubheads stamped with his name from both George Nicoll and Tom Stewart. His other service to France was in the First World War where he was wounded in the Battle of Verdun.

The Second World War was less kind to him. He had been private professional to the Pasha of Marrakech before moving back to France in 1940 first as professional at his old home of Biarritz before moving to Rouen. After the war he taught in semi-retirement at étretat in Haute-Normandie but in 1946 was almost destitute. He sought help from the R&A who turned him down. He died in étretat in 1950 and his daughter brought the body to Edinburgh for burial. This fact was largely overlooked and the grave of Massy, his wife and daughter lay in an overgrown part of Mortonhall cemetery. It's rediscovery was largely down to the work of Douglas Seaton, the authority on all things golf and North Berwick and whose site has an excellent piece on Massy (see the Links section). As a result, a new gravestone was consecrated in 2013 with funding largely from the European Association of Golf Historians & Collectors but also from the R&A who had refused to help Massy in life when he needed their support more.

Search the catalogue for clubs by this maker