Clubmakers
---
Urquhart's Patents Limited
Edinburgh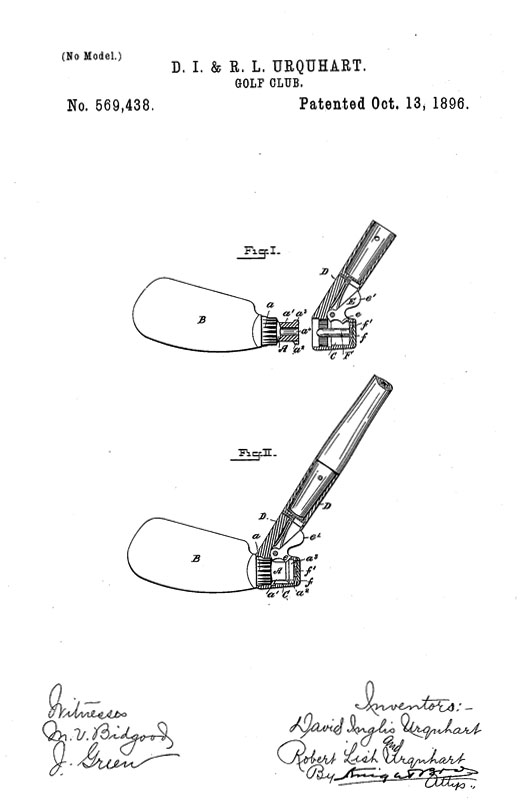 This was a one-club company, advertised in March 1905 as.


'The Urquhart Patent Adjustable Golf Club (10 clubs in one). Price 15s. Tom Morris and other prominent golfers say, "Every golfer should have one"'


As the illustration shows, the club had an adjustable blade which could be modified to allow for any lie and loft meaning it was the only club a golfer needed to carry. They did apply for a patent for a hole indicator (including a match-striking surface!) for teeing grounds, and for incorporating springs into a golf ball, in 1904 and 1905 respectively, but it does not appear that the patents were granted let alone the products manufactured.

The business was a family concern and, as he stuck with it longest, I assume Robert Lish Urquhart was the prime mover behind it. The first patent application was in 1892 and, again, I do not believe this was granted. It was revised and the first successful patent application was made in 1895. The first patent applications were in the name of Robert and, I assume, his brother, David Inglis Urquhart. After the turn of the century, with patents to cover improvements up until 1905, the applicants were Robert and, given they were living at the same address in Dunbar, I presume his wife, Edith Mary.

At some point a limited company was formed, Urquhart's Patents Limited, at one of the most expensive addresses in Edinburgh, 5 St Andrew Square in the New Town. It was not just a mail drop as they advertised clubs as being available from there. This continued until 1909 when a strike-off notice appeared in the Edinburgh Gazette.

Peter Georgiady writes that as they stayed in business for almost twenty years (a slight exaggeration) they must have been moderately successful. That is one interpretation. Another is that it was a wealthy man throwing good money after bad. Robert was a partner in the Leith shipping firm Henderson and Dimmack which also had iron and coal interests such as the Drumpellier ironworks in Coatbridge. After the partnership was dissolved by mutual agreement of the three partners in 1878 he is described as a 'gentleman'. Apparently he was a member of the Honourable Company of Edinburgh Golfers at Muirfield so his motivation for developing the club was unlikely to be that he could not afford a caddy. Similarly, David was a coalmaster at the Cairntable Coal Gas Co, in charge when the Muirkirk mining disaster took place at the Bankhead pit in 1898 so also not scraping a living. What Robert did after the demise of the Urquhart Patent's company I do not now but in February 1927 he was living in Covent Garden and filing for bankruptcy in the English courts though he was released from bankruptcy again in June 1929.

Successful or not, the club did get some attention. A 1904 newspaper piece reported it had been tried, especially at North Berwick, and that Arnaud Massy played a match against a well-known Edinburgh amateur, Angus McDonald, over the Barnton course using only the Urquhart club. He lost 5 and 4.

Why was it not more successful? Alick Watt spoke about trying one out in the 1930s with a "modern" rubber-cored ball and said it felt like hitting a brick. He felt it was far better suited to the hard gutta so its introduction during the transition between the two was just unfortunate timing. A golf journalist reminiscing in his newspaper column in the 1940s recalled that the blade had a tendency to move when playing a shot. These technical reasons aside, selling the club required a trade network. What clubmaker was going to recommend an item which potentially rendered the rest of his stock superfluous? Caddies, and the clubs which profited from them, were unlikely to vote with the turkeys welcoming Christmas. And greenkeepers with rapidly improving greens were decidedly sniffy about golfers using a sharp-bladed iron to putt.

The clubs are marked Urquhart and sometimes with a "U" in a circle but what I have not yet been able to establish is who made the clubs for Urquhart. The shipping and mining background suggest plenty able metalworking and engineering sub-contractors but it would be interesting to pin down the exact details.

Search the catalogue for clubs by this maker