Clubmakers
---
Andrew Annand
Aberdeen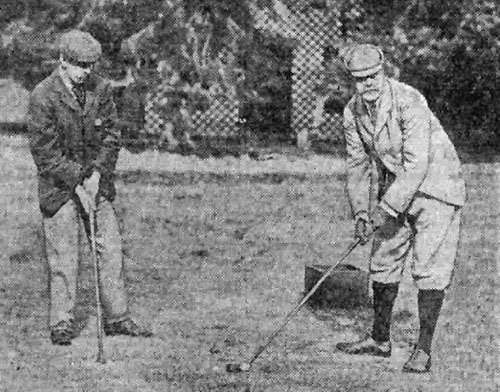 He was a caddy to the Aberdeen Club first on the town links (there is a record of him playing a professional match on it in 1878, a return leg against Robert Dow of Montrose) and regular professional matches through the early and mid 1880s. He set the course record over this first Aberdeen course, (9 holes on the Queen's Links, 6 on the King's Links) with a 65 in 1873.

After the move to Balgownie he defeated Tom Morris in 1890 in singles, played in singles in 1888 and 1891 in singles and foursomes against Hugh and Andrew Kirkaldy with his regular professional playing partner, Robbie Mearns.

As a professional at Balgownie he was essentially the predecessor to Archie Simpson though the terminology can be confusing. For example, a match is reported in 1894 between Mr L S Anderson and Archie Simpson 'recently appointed groundkeeper at Balgownie' against Mearns and Andrew Annand, 'the professionals of the club'. In any event Annand and Mearns won the first round quite convincingly and lost the second by a hole. According to the Evening Express commenting after his death in 1915, this was the last big match he played and he 'confined his attention mainly to carryng clubs and coaching .... and as long as he was able to go out on the course he found employment. But he was often laid aside by long spells of illness, and at such times the club did not forget him'.

In 1902, as illustrated, he was a private instructor to the Duke and Duchess of Fife at Mar Lodge (an arrangement the Royal couple also later had with George Harris) and, after fourteen weeks of tuition, he was offered a European tour with them which he declined.

He also served 23 years in the 3rd Battalion of the Gordon Highlanders, presumably as a reservist.

So, teaching golf to royalty, defeating the royalty of the game for high stakes, how was he classified at the time? The 1911 census shows him living with wife Mary, and four children, at 102 Causewayend with the occupation of Labourer in the service of a golf club!

He died on 21 September 1915 aged 57.

Search the catalogue for clubs by this maker