Clubmakers
---
W Freemantle
Hyères/Dieppe/St Moritz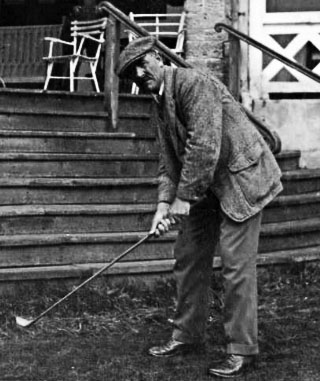 There was quite a dynasty of Freemantles plying their trade around the golf courses of France, Belgium and Switzerland beginning with William who was born in Upham, Hampshire, on 15 February 1862 to George Freemantle, a farm labourer, and his wife Ellen Ann, née Miles.

William's brother, Sam, spent winter in Cannes and summer in Ostend. Three sons, Morris, Reginald and Wilbur were also professionals at Etretat, Granville and Deauville (Reginald Freemantle being a regular fixture in the French Open Championships from the mid-1920s to mid-1930s) and Lausanne.

His daughters, Lilian and Elsie Eva were two of the first female professionals.

According to Lily, William had been a professional cricketer with Hampshire (though I have not found him in their list of players) and, first went to St Malo in France as such. This strikes me as an unlikely tale and he was certainly professional at Hyères by the start of the 1897 season at which point he was described as 'late of Dinard'. I have seen claims he laid out the Hyères course and also that it was done by his future son-in-law Bernard Callaway. Perhaps they did it together. There is a record of them playing here in 1905 against J H Taylor who played against their better ball and still won 6 and 5 over two rounds.

He split his time between Hyères on the Riviera and the one at Dieppe although still finding time to set a course record at St Moritz in Switzerland and to play with Lady Wolverton at Cannes against J H Taylor and Countess Torby. In March 1907 he took part in a tournament at his 'home' course of Hyères with professionals who had travelled from the UK to play in a competition in Cannes. These included Harry and Tom Vardon, Ted Ray, Sandy Herd, J H Taylor, Rowland Jones, J H Taylor and James Braid. It must have been some tournament to persuade Braid to travel across water, something he hated passionately. Later that year Freemantle was professional at the St Moritz Engadine club though still keeps his association with Hyères as he played in another tournament the following year with Harry Vardon, J H Taylor and Robert MacDonald, the much travelled Dornoch professional, then plying his trade at Aix-les-Bains, before succeeding Freemantle at Hyères, and the French masters, Arnaud Massy, Jean Gassiat and Bomboudiac.

William died back in Fareham on 23 December 1937.

Search the catalogue for clubs by this maker